Reminder Auto Dialers
Voice Broadcasting Phone Systems
Automatic Phone Reminder Systems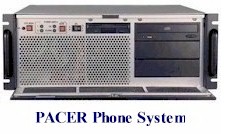 Database Systems Corp. (DSC) is a leading provider of call center technology and automatic reminder autodialers using sophisticated voice broadcasting systems.

Our state-of-the-art voice broadcast system can send one phone reminder or can deliver thousands of pre-recordered call reminder messages. These messages can be sent to either individuals and answering machines or just to individuals informing them of sporting events, emergency situations, community happenings or upcoming appointments. A different reminder can be sent to an answering machine versus an individual.

After one of our auto dialers delivers the recorded message, the reminder recipient can be given the option to make menu selections using the phone keypad. This menu can be programmed as a simple menu or a complex script developed using our award winning IVR software. The call recipient can always have the option to be transferred to an operator or to an outside third party if your business rules require the personal handling of a call.

Contact DSC to learn more about our reminder auto dialers and voice broadcast phone systems.


---
Analog Reminder Phone System
DSC offers an entry level call reminder system that supports 1-48 analog phone lines. Called the WIZARD phone systems, these office environment systems contain computer telephony boards from Intel / Dialogic. We custom install your call reminder application at our facility and test each one before shipping it to your office.

Simply plug in your analog lines and follow our simple VB WIZARD to install this call reminder system at your location.
WIZARD Voice Broadcast System Features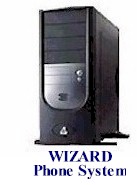 New Office Environment PC (Monitor Optional)
New Intel/Dialogic Telephony Card(s)
4, 8, 12, or 24 Analog Line Configurations
Windows OS
DSC Phone Software
Simple Message Delivery
Message With "Press Through" Call Out
Automatic FTC Opt Out compliance
Multiple Voice Broadcast Programs
VB Wizard Software
Text To Speech Integration
Touch Phone Navigation
Hearing Impaired TDD / TTY Phone device support
Call Recording
Message Forwarding
Options and Upgrades
Customized Voice Broadcast Programs Using IVR Wizard
Concurrent Inbound IVR functionality
LINUX, Unix, Windows Development Kit
Custom VB Application Development
XML Push Voice Messaging
Professional Voice Over Messages
CRM Expansion Option with Agent Support
Easy Upgrade to PACER Systems with T1 Phone Lines
---
Voice Broadcast Applications
Here are just a few applications using voice message broadcasting systems.
Appointment Reminders
Membership renewals
Subscription renewals
Customer preferences data
Petitions and citizen polling
Event invitations
Special offers & incentives
Warrantee renewals
New service offerings
Consumer information
Company updates
Employee Benefit Surveys
Market Research Surveys
Locator Services
Literature Fulfillment
Credit Card Processing
Order Status
Inventory Confirmation
Account Status
Lead Generation & Capture
Contests and IVR Opinion Polls
Call Us Today
Contact DSC to learn more about our automatic reminder phone systems.