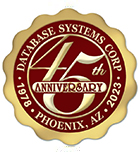 Wake Up Calls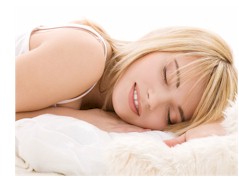 Since 1978, Database Systems Corp. (DSC) has been providing state-of-the-art telecommunications software and computer systems. Our call center products and services include voice broadcasting technology that can be managed from anywhere with internet access. These systems and services are ideally suited for broadcasting wake up calls anytime of the day.

Employing these message broadcasting systems, DSC can deliver hundreds or thousands of phone reminders in just minutes! Recorded messages can be broadcast to either answering machines or to individuals, reminding them of upcoming events or providing simple wake up calls. Alerts can be generated to inform a friend or associate that the wake up call recipient did not acknowledge the call.

DSC technology differs from most automatic wake up services because individual programs can be developed for each client. For instance, one wake up call recipient can be programmed to require an acknowledgement key. Others may simply be given one call and that's it.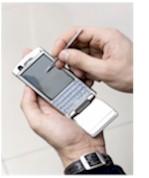 Different call reminder messages can be played to an answering machine versus an individual. Most reminders are simple messages, yet our phone broadcast solutions can be programmed to handle complex scripts with touchphone responses.

Personalized information from your client database (such as name, purpose of the call, appointment date and time, etc.) can be included in these phone reminders. In some campaigns, different messages can be played based upon contact with an answering machine or a person and based upon the time of day. An individual could be given a message with selection options using our interactive touchphone response system.

Contact DSC to learn more about our wake up call reminder service and systems. To learn how to use our autocalling services, click on the Voice Broadcast Quick Tour. (Popups must be enabled on your browser).
---
IHOP International House Of Pancakes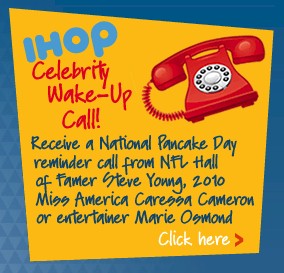 "IHOP restaurants, one of America's favorite restaurant chains, are franchised and operated by the International House of Pancakes, LLC and its affiliates. More than 99 percent of IHOP restaurants are operated by franchisees, who are independent business people. Our management belief is that an equity involved franchisee is very responsive to the needs of the guest." - www.ihop.com

International House of Pancakes selected Database Systems Corp. to provide automated calling and phone communications services. IHOP customers sign up for a free wakeup call during its free pancake day and are asked to donate to the Children's Miracle Network. Wakeup calls are broadcast from DSC's automatic call center to every subscriber. These calls contain recorded messages from former NFL quarter back Steve Young, Miss America 2010 Caressa Cameron, and celebrity Marie Osmond.

According to an IHOP spokesperson:

"We had a GREAT day and are still counting donations! The phone calls were awesome; I signed myself up to receive all four and they came exactly five minutes apart, just as I'd specified. The recordings sounded great and I know our guests and employees were very excited about receiving the calls."
---
Online Wake Up Call Reminder Reports
Real time reports and graphs are an integral part of our phone reminder system and services. This reporting and feedback system helps you observe and control the performance of your reminder campaigns with clear and meaningful displays.

Voice broadcast graphs and charts of operational statistics let you measure the effectiveness of each reminder campaign as it is running.

The statistical information contained in each of these reports can be downloaded into a spreadsheet format for individually customized reporting.
Call Us Today
Contact DSC for a FREE analysis and quote and to learn more about our call reminder service.



Announcements
Announcements
Phone Announcements
Call Announcements
Public Service Announcements
Government Notification
Military Notification
Boy Scout Call Notification
Workforce Notification
Union Member Calls
School Announcements
Student Wake-Up Calls
Church Calls
School Calls
School Calling Service
Send School Calls
School Closures
Church Announcements
Send Church Calls
Church Welcome

Reminder Services
Medication Reminder
Past Due Reminder
Reminder Services
Reminder Autodialers
Delivery Notification
Reminder Software
Payment Reminder
Notification Services
Patient Appointments
Pill Reminders
Order Status Reminder
Event Reminders
Marketing Reminders
Call Notification
Announcements
Appointment Reminders
Service Reminder Calls
Wake Up Calls
Debt Collection

Voice Broadcasting
Message Broadcast
Phone Message
Automated Messaging
Call Messaging
Message Dialer
Send Phone Messages
VoiceXML Broadcast
Mass Calling
Robo Calls
Automatic Phone Alerts
Voice Broadcast
Voice Broadcast Simulation
Voice Broadcasting Systems
Mass Communications
Voice Broadcast Software
Telephone Messaging
Voice Message Broadcasting
Phone Blast
Voice Mail Broadcasting
Voice Blast
Calling Tree