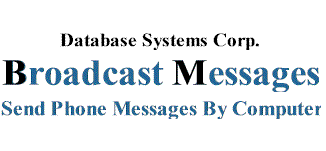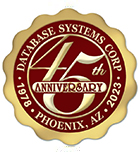 Send Phone Message Services and Systems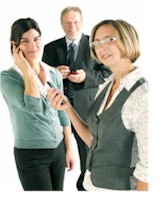 Database Systems Corp. (DSC) provides the latest technology in call center phone systems and phone application development services. DSC is also a leading provider of call outsourcing services including phone answering services and phone message delivery services.

Sending phone messages to a large group of call recipients is a communications technique that is gaining popularity, particularly with targeted phone audiences such as clients or with members of a community during an emergency alert.

Commercial use of this technology can be employed to send calls to all or selected groups of customers at once. Emergency or alert messages can be delivered to community members in the event of a disaster that affects a large population in a geographic area.

Broadcast messages can be delivered to both individuals and answering machines. If our voice broadcasting system detects a no answer condition or busy signal, the message can be scheduled for delivery at a later time.

Contact DSC to learn more about our how to send phone messages to your clients and community members. To learn how to use our voice broadcasting services, click on the Voice Broadcast Quick Tour. (Popups must be enabled on your browser).


Voice Broadcasting Video
Register Online For Voice Broadcasting Service
If you wish to use our voice broadcasting phone services, DSC is pleased to offer significant discounts when you use our Online Registration Form.





Start Calling In Just Minutes!. Using our new online signup lets you get started immediately with your calling campaign. Simply create an account and agree to our standard terms and conditions. Then download your list of phone numbers and record a message. We accept major credit cards and for as little as $25, you can begin calling. Its that simple!


Create and save one or more list(s) of call recipients.
Record your phone message (either offline or using our 800 number).
Push "Start" broadcast button.
Manage Voice Broadcasting Using Your iPhone
DSC now lets you send phone messages using your iPhone (and Droid). The following easy to use functions are available to smartphone users.
Login to your account
Select a list of phone numbers to call
Select saved recordings to broadcast
Record messages by calling our service
Start and Stop a voice broadcast
Monitor the voice broadcast in progress
The DSC iPhone App now lets you manage any number of message broadcasts using simple phone commands. Contact DSC to learn more about this simple way to control your voice broadcasting and to obtain a copy of this smartphone application.
The American Red Cross

"The American Red Cross is a humanitarian organization that provides emergency assistance, disaster relief and education inside the United States, as part of the International Federation of Red Cross and Red Crescent Societies.

Today, in addition to domestic disaster relief, the American Red Cross offers compassionate services in five other areas: community services that help the needy; support and comfort for military members and their families; the collection, processing and distribution of lifesaving blood and blood products; educational programs that promote health and safety; and international relief and development programs." - www.redcross.org

The American Red Cross selected Database Systems Corp. to provide our voice broadcast phone system for it's community and employee notification requirements. The American Red Cross uses this system to send phone messages to employees and emergency response personnel during a disaster. Using our inbound IVR included with this voice broadcast system, American Red Cross personnel can record messages over the phone and transmit these messages to selected groups.
---
How To Use Our Phone Message Delivery Service
Our online phone message delivery service is easy to use and it's secure. Once you've registered for our service, here are the simple steps required to send phone messages.
Create and upload one or more list(s) of call recipients.
Record your phone message (either offline or using our 800 number).
Push "Start" broadcast button.
That's it. For an online tour of our phone service, visit our voice broadcasting demonstration page. If you are unable to use our online voice broadcast website, you can call our 800 number, record your message, select a saved list of call recipients, and initiate the broadcast.
Online Phone Messaging Reports
An important feature of our phone broadcasting service is our extensive online call reports. These voice broadcast reports provide our clients with a complete view of the performance of their call campaigns as they are progressing.

The phone messaging reports are maintained online and provide important feedback that lets you observe and control the performance of each calling program.

Statistics and Graphs let you measure the effectiveness of these campaigns as they are progressing.

The information contained in each of these reports can be downloaded into a spreadsheet that lets you produce your own customized reports.
Types of Phone Messaging Campaigns
Sending phone messages can be far more than simply delivering a simple message to a group of call recipients. The following different types of phone message broadcasting are supported with our phone systems and outsourcing services:
Phone Message Broadcast - This is a basic call where the phone system dials from a list and sends a phone messages either to an individual, or to an answering machine and an individual. No person or agent is required to talk with the contacted party who in turn simply listens to the message. This technique could be useful when you wish to provide basic information or announce an event, provide a reminder, or request an action from the contacted individual.



Custom Phone Message Broadcasting - This is similar to a Phone Message Broadcast but the phone system sends a unique recorded message based upon the number dialed. Unique items of information can be inserted into a basic voice messaging alert. Likewise the entire message could be unique for each number or based upon demographic items in the call list database. The message itself could be stored in the database.



Phone Message Broadcasts with Key Responses - This method expands the prior broadcasting technique by playing a message that gives the contacted individual options from which to select. Using touchphone responses such as "Press 1 for...", the choices could include obtaining additional information, being removed from the call list, leaving a voice message, or terminating the call. Different recorded messages can be left on an answering machine or the answering machine could be ignored completely. Although more complex than the prior call types, this form of message dialing does not require that an agent be available to handle this call.



Phone Message Broadcast and Call Transfer - This is similar to the prior call technique but with the option to transfer the call to a third party. Again, using touchphone responses the contacted individual can request that the call be transferred to an outside agent. The phone system dials another number and when contact is made with the third party or different phone system, the call is transferred. This is effective when the transfer party or organization is remote or not directly connected with your phone system and center.



"Smart" Message Broadcasting - This type of calling campaign blends message broadcasting with predictive dialing and can produce very productive results. Voice messages are played to the called individual, and if the person expresses an interest in your product or service, the call can be routed immediately to a group of agents who are actively standing by to accept calls. This type of call works well when a call center is behind the message broadcast campaign. You have effectively transformed an outbound call center into a more productive inbound center with voice messaging.



Call Us Today
Contact DSC for a FREE analysis and quote and to learn more about how to send phone messages using our state-of-the-art technology.



Voice Broadcasting
Automated Messaging
Call Messaging
Message Dialer
Voice Messaging
Voice SMS Messaging
VoiceXML Broadcast
Mass Calling
Send Text Messages
Text Message Services
Auto Text Messaging
Voice Broadcast Software
Telephone Messaging
Send SMS Messages
Voice Text Messaging
Voice Message Broadcasting
Phone Blast
Voice Blast
Calling Tree