Phone Message Systems
Message Broadcasting Phone Systems
Phone Message Broadcasting Systems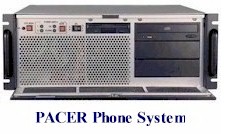 Database Systems Corp. (DSC) provides call center outsourcing services and phone systems including phone message delivery systems.

Our state-of-the-art Message Broadcast system can send one phone message or can deliver millions of pre-recordered call messages. These phone messages can be delivered to either individuals and answering machines or just to individuals informing them of emergency alerts, community events or upcoming appointments. Different phone messages can be played to answering machines versus individuals.

After our system delivers the recorded message, the call recipient can be given the option to make menu selections using the phone's keypad. Our IVR (Interactive Voice Response) software can be used to program a simple menu or a complex phone message script. The call recipient can be provided an option to be transferred to an operator or to an outside third party if your business rules require the personal handling of a call.

Contact DSC to learn more about our phone messaging service and systems.


---
Analog Phone Messaging System
DSC offers an entry level phone messaging system that supports 1-48 analog phone lines. Called the WIZARD phone system, this office environment system contains an Intel processor and Dialogic computer telephony boards.

DSC custom installs your application at our facility and tests these applications before shipping to your facility. Simply plug in your analog lines and follow our simple VB WIZARD to install this system at your location.
WIZARD Phone Message System Features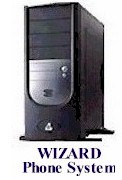 Office Environment PC (Monitor Optional)
Intel/Dialogic Telephony Card(s)
4, 8, 12, or 24 Analog Line Configurations
Windows OS
DSC Phone Messaging Software
Simple Message Delivery
Message With "Press Through" Call Out
Automatic FTC Opt Out compliance
Simultaneous Phone Broadcasting Programs
VB Wizard Software
Text To Speech Integration
Touch Phone Navigation
Hearing Impaired TDD / TTY Phone device support
Call Monitoring and Recording
Message Forwarding
Options and Upgrades To The WIZARD System
Customized Phone Broadcast Programs
Concurrent Inbound IVR functionality
LINUX, Unix, Windows Development Kit
XML Push Phone Messaging
Professionally Recorded Voice Prompts
CRM Expansion Option with Agent Support
Easy Upgrade to PACER Systems with T1 Phone Lines
---
Phone Messaging Services
Database Systems Corp. can provide your organization with a complete, turnkey phone message broadcast system. However, if prefer to have your phone messaging campaigns outsourced or you need to get a project started immediately, we can provide your organization phone message outsourcing at our multiple call center locations.

Our Voice Broadcasting Service is ideal for political GOTV calls, community emergency notification services or simply for customer or employee reminders.
Phone Answering Systems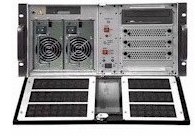 Phone systems from Database Systems Corp. are state-of-the-art computer telephony phone dialing systems that can also process inbound phone calls as well.

Our call center phone systems support both analog (Wizard Series) and digital (Pacer Series) phone lines and can be configured from 1 analog line to a 1000 digital lines.

Calls are either initiated by the phone system or accepted from the outside. Developed with industry standard components (Dialogic, Intel, and Windows), our phone system has features and functions that can only be found in large scale PBX's, but at a fraction of the cost.
Call Us Today
Contact DSC to learn more about our phone message broadcasting systems.