Voice Blast Solutions
Mass Communications Using Voice Broadcasting

Voice Blast Phone Systems and Services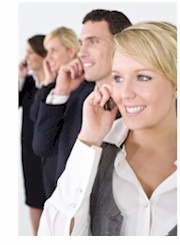 Database Systems Corp. (DSC) has been providing the latest computer technology since 1978. Our modern phone systems provide mass communication capability including voice blasting phone systems and services.
What Is Voice Blasting?
"Voice blasting is a modern communications technique that uses computer technology to send pre-recorded phone messages to hundreds or thousands of community members at once. This application of this technology has both commercial and community service use. Business phone messages can be broadcast to customers in bulk fashion or emergency alerts can be delivered to members of a community."
DSC products and services offer an affordable method of calling thousands to millions of individuals using our voice blasting technology.

Groups and communities looking to get an important message out to a large number of people in a short amount of time can benefit significantly from this technology. Voice blasting is far more cost effective than using traditional mailers - just pennies a call for large volumes.

Voice blasting is very effective for political campaigns, community service programs and mass marketing projects.

Contact DSC to learn more about our voice blast systems and services.


---
Corning Incorporated

"From light bulbs, television tubes and cookware…to ceramic substrates, optical fiber and Active-Matrix Liquid Crystal Displays, Corning has developed products that change the way we live -- for the better. Corning's sustained success stems from our ability to constantly reinvent and evolve our products and processes to meet the demands of current and future markets. Our rich heritage of innovation has been called one of American Business' greatest scientific traditions." - www.corning.com

Corning utilizes our voice blasting services in the management of their facilities. If an unexpected event occurs at one of Corning's manufacturing plants, a security guard can make one phone call to our center that initiates a process which sends voice messages to all affected Corning employees.
---
Voice Blast Campaigns
Voice blast messaging is far more than simply delivering simple phone messages to a large number of call recipients. The following different types of voice blast campaigns are supported with our voice broadcasting technology:
Simple Voice Blast - This is a basic call where the phone system dials from a list and plays one standard message either to an individual, or to an answering machine and an individual. No person or agent is required to talk with the contacted party who in turn simply listens to the message. This technique could be useful when you wish to provide basic information or announce an event, provide a reminder, or request an action from the contacted individual.



Custom Message Voice Blasting - This is similar to a Simple Voice Blast but the phone system plays a customized message based upon the number dialed. Unique items of information can be inserted into a basic voice messaging alert. Likewise the entire message could be unique for each number or based upon demographic items in the call list database. The message itself could be stored in the database.



Voice Blasts with Telephone Keypad Response - This method expands the prior broadcasting technique by playing a message that gives the contacted individual options from which to select. Using touchphone responses such as "Press 1 for...", the choices could include obtaining additional information, being removed from the call list, leaving a voice message, or terminating the call. Different voice messages can be left on an answering machine or the answering machine could be ignored completely. Although more complex than the prior call types, this form of message dialing does not require that an agent be available to handle this call.



Voice Blast with Call Transfer - This is similar to the prior call technique but with the option to transfer the call to a third party. Again, using touchphone responses the contacted individual can request that the call be transferred to an outside agent. The phone system dials another number and when contact is made with the third party or different phone system, the call is transferred. This is effective when the transfer party or organization is remote or not directly connected with your phone system and center.



"Smart" Voice Blasting Programs - This type of calling campaign blends voice messaging with predictive dialing and can produce very productive results. Voice messages are played to the called individual, and if the person expresses an interest in your product or service, the call can be routed immediately to a group of agents who are actively standing by to accept calls. This type of call works well when a call center is behind the message broadcast campaign. You have effectively transformed an outbound call center into a more productive inbound center with voice messaging.



Call Us Today
Contact DSC to learn more about our voice blasting phone services.



Voice Broadcasting
Message Broadcast
Phone Broadcast
Voice Messaging
Voice/Text Messaging
Broadcast Messages
Send Phone Messages
Voice Broadcast
Voice Broadcasting Systems
Voice Broadcast Software
Voice Broadcasting Service
Calling Tree

Auto Dialers
Auto Dialer
Computer Phone
Phone Dialer
Autodialers
CTI IVR