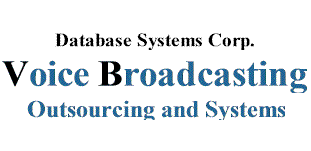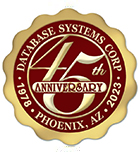 Voice Message Broadcasting Systems and Service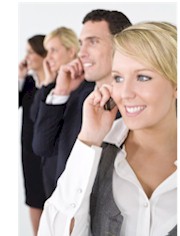 Database Systems Corp. (DSC) is a leading provider of computer telephony software and phone technology including voice message broadcasting systems and services.
What Is Voice Message Broadcasting?
"Voice message broadcasting is a mass calling technology that involves sending phone messages to hundreds or thousands of call recipients at once.

Voice message broadcasting technology has both public service and commercial applications. Phone messages can be sent to clients or alert messages can be delivered to community members in the event of an emergency."
Since 1978, DSC has provided its clients with the latest technology in database and contact management solutions including voice message broadcasting auto dialers.

Using voice message broadcasting, phone messages can be sent to either individuals or answering machines. If the voice broadcasting autodialer detects a no answer condition or busy signal, the message can be scheduled for delivery at a later time. Complete online reports are available to view the effective delivery of phone messages using this technology.
Register Online And Save!
DSC now provides an online signup for both non-profit and business organizations wishing to use our voice broadcasting outsourcing services. Our competitive rates are affordable, even for the smallest calling campaign.

Start Calling In Just Minutes!. Using our new online signup lets you get started immediately with your calling campaign. Simply create an account and agree to our standard terms and conditions. Then download your list of phone numbers and record a message. We accept major credit cards and for as little as $25, you can begin calling. Its that simple!

Both emergency and non-emergency voice broadcasting services can be provided by DSC.

To register online, click on the the online registration image or button on the right.

Contact DSC to learn more about our phone messaging services and call delivery systems.
Manage Voice Broadcasting Using Your iPhone
DSC now lets you manage your voice broadcasting campaigns using your iPhone (and Droid). The following easy to use functions are available to smartphone users.
Login to your account
Select a list of phone numbers to call
Select saved recordings to broadcast
Record messages by calling our service
Start and Stop a voice broadcast
Monitor the voice broadcast in progress
The DSC iPhone App now lets you manage any number of voice broadcasts using simple phone commands. Contact DSC to learn more about this simple way to control your voice broadcasting and to obtain a copy of this smartphone application.


---
BASF: The Chemical Company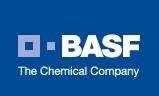 "BASF is the world's leading chemical company: The Chemical Company. Its portfolio ranges from oil and gas to chemicals, plastics, performance products, agricultural products and fine chemicals. As a reliable partner, BASF helps its customers in virtually all industries to be more successful. With its high-value products and intelligent solutions, BASF plays an important role in finding answers to global challenges, such as climate protection, energy efficiency, nutrition and mobility."
- www.basf.com

BASF selected Database Systems Corp. to provide automated voice message broadcasting and phone communications services. BASF utilizes our emergency automated call services which are located in our Phoenix call center to contact its members and staff during various types of emergencies.
---
Voice Message Broadcasting Systems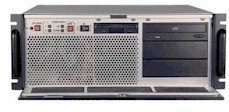 DSC offers voice message broadcasting systems for both small and large message delivery applications. This call center phone system includes a modern Windows PC with Dialogic computer telephony cards. When combined with our full-featured voice messaging software, these phone systems can perform both inbound call distribution as well as outbound voice message broadcasting campaigns.

The WIZARD voice broadcast system is our entry level message delivery system that broadcasts phone messages using up to 48 analog phone lines. If your message broadcast center requires faster delivery to a large number of households, our PACER voice broadcasting system can be used to deliver messages over hundreds of digital phone lines.
Voice Broadcast Regulations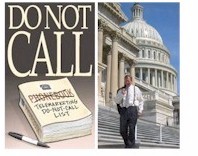 While delivering voice message broadcasts to call recipients, DSC can automatically enter the called individual's phone number into a Do Not Call (DNC) phone list if your message has a "Press Through" feature. For example, your message can introduce your organization and product or service.

For commercial voice broadcasts, you MUST provide an option that allows the recipient to be removed from your call lists at the beginning of the recorded message. If the call recipient presses the appropriate number on the phone keypad, our voice message broadcast system will automatically enter this phone number into a DNC (Do Not Call) file and terminate the call.

The following are just a few of the FTC regulations that govern the broadcasting of automated phone messages to individuals. Although most of these guidelines apply to commercial broadcasting, it is important to follow all of the rules dictated by the FTC (See Telemarketing Sales Rule).'
Prior Written Consent. (The amendments) expressly prohibit telemarketing sales calls that deliver prerecorded messages, whether answered in person by a consumer or by an answering machine or voicemail service, unless the seller has previously obtained the recipient's signed, written agreement to receive such calls.
Opt Out Option In Phone Message. (The amendments) require that, by December 1, 2008, sellers and telemarketers provide, at the outset of all prerecorded messages, an automated keypress or voice-activated interactive opt-out mechanism so that consumers can opt out as easily as they can from a live telemarketing call.
Answer Machine Message Containing Toll Free Opt Out Number. In cases where the call is answered by an answering machine or voicemail, (the caller must) provide a toll-free number that allows the person called to be connected to an automated interactive voice and/or keypress-activated opt-out mechanism anytime after the message is received.
Because new FTC requirements mandate that outbound calling companies give call recipients the ability to opt out of a calling campaign, Database Systems Corp. technology is more important than ever. The advantage to your organization is that now this process can be fully automated using our Opt Out IVR system. Your call campaigns can be programmed to give the call recipient the option to "Press x...." to be removed from your call lists.

For more information about this program, visit our Opt Out Technology webpage.


---
Call Us Today
Contact DSC to learn more about our voice message broadcasting services and systems.



Voice Broadcasting
Auto Calls
Phone Message
Automated Messaging
Call Messaging
Message Dialer
Phone Broadcast
Reminders
Voice Broadcast Software
Voice Broadcast Service
Call Blast
Send Text Messages
Send SMS Messages
Voice Text Messaging
Text Message Services
Automatic Text Messaging
Interactive Voice Broadcasting
Telephone Messaging
Voice Message Broadcasting
Phone Blasts
Voice Marketing
Voice Blasts
Calling Tree
IVR Voice Messaging
Auto Dialer
Autodialers