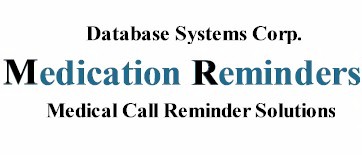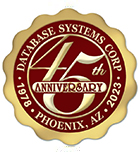 Medication Reminder Service and Phone Systems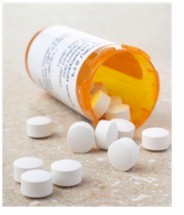 Reminding senior citizens and individuals with medical conditions to take their medications is an easier task with call reminders from Database Systems Corp. (DSC). DSC provides both inbound and outbound calling services such as message broadcasting from our call center.

Employing voice broadcasting systems located at this center, DSC can deliver medication reminders in just minutes to patients anywhere they have access to a phone. A recorded message can be delivered to either an answering machine or to individual with a simple reminder to take their prescription medication.

Simple to complex scripts can be developed for touchphone response. Calls can be directed to medical personnel such as doctor's office staff members if the notice is more than a simple reminder.

Personalized information from your medical and patient database (such as name, medication, prescription level, time, etc.) can be included in each phone reminder. An individual could be given a message with selection options using our interactive voice response system.

Contact DSC to learn more about our medication reminder service and systems.
Register Online For Medication Reminder Services
DSC now provides an online signup for individuals who wish to subscribe to our medication reminder service. Use this form to obtain information about our services with no obligation until you select a payment option.

Subscribers can manage individual reminder calls by setting the dates and times for these reminder calls. Special contacts can be designated if the subscriber does not acknowledge or respond to the calls.

To register online, click on Medication Reminders or the image on the right.


---
Medication Reminder Service - Medalerts

"MedAlerts uses advanced technology to call subscribers when it is time to take their medication. The state-of-the art telecommunications platform will generate an automated call to your phone when it is time to take your medication."

MedAlerts is a DSC customer that employs our medication phone reminder service to automatically call their subscribers and remind them to take their medications as prescribed by physicians. MedAlerts also notifies their clients when it is time to refill their prescriptions. This is accomplished using a personalized message designed for each client.
---
Online Medication Reminder Reports
An important feature of our medication reminder systems and services is the ability to generate real time reports and graphs. This reporting and feedback system helps you observe and control the performance of your voice broadcasting campaign with clear and meaningful displays.

VB graphs and charts of operational statistics let you measure the effectiveness of each reminder campaign as it is running.

The statistical information contained in each of these reports can be downloaded into a spreadsheet format for individually customized reporting.
Call Us Today
Contact DSC for a FREE analysis and quote and to learn more about our medication reminder service.



Voice Broadcasting
Phone Message
Automated Messaging
Call Messaging
Message Dialer
Phone Broadcasting
Voice Messaging
Voice Text Messaging
Send Phone Messages
Voice Broadcast
Voice Broadcast Software
Voice Broadcasting Service
Telephone Messaging
Voice Message Broadcasting
Phone Blast
Voice Mail Broadcasting
Voice Blast
Calling Tree