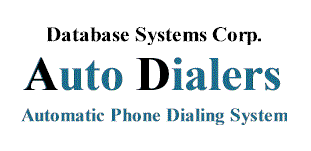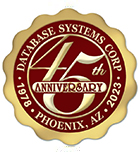 Auto Dialers / Voice Broadcasting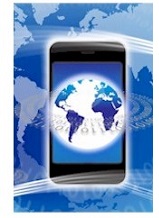 Database Systems Corp. (DSC) has been providing call processing systems and services since 1978. Our automated phone dialer systems and outsourcing services include voice broadcasting for calling campaigns and IVR applications for inbound call answering.

Auto dialer technology from DSC can perform virtually any type of calling campaign. These include voice broadcasting, predictive dialing, progressive dialing, and preview dialing campaigns. See below a further description of each of these dialing techiques.

The DSC voice broadcast auto dialers can send calls to thousands of call recipients at once. This communications technology has both community and commercial applications. Recorded phone messages can be sent to community members in the event of an emergency or can be delivered to customers and prospects of commercial organizations.

These phone messages can be sent to both answering machines and live contacted individuals. If our automated dialing systems detect a no answer condition or busy signal, the phone message can be scheduled for delivery at a later time. Our auto dialers come with complete online reports to allow phone administrators to view the effective delivery of messages using this technology.
Autodialer Service - Register Online and Save!
If you wish to use our voice broadcasting phone services, DSC is pleased to offer significant discounts when you use our Online Registration Form.




Start Calling In Just Minutes!. Using our new online signup lets you get started immediately with your calling campaign. Simply create an account and agree to our standard terms and conditions. Then download your list of phone numbers and record a message. We accept major credit cards and for as little as $25, you can begin calling. Its that simple!
---
Express Digital Graphics, Inc.

Express Digital Graphics, Inc. specializes in providing its clients with digital photography. Express Digital focuses primarily on sports photography but also provides photographic services for non sports related events. - www.PhotoReflect.com

Express Digital Graphics, Inc. has contracted with Database Systems Corp. to provide auto dialer phone services to its clients. Because of its seasonal business, Express Digital sends out voice marketing reminders to its existing clients several times a year.
---
Auto Dialing Service - Register Online and Save!
DSC offers a competitively priced auto dialing service for customers who wish to use our voice broadcasting service rather than purchase their own systems. This offers many advantages including the delivery of messages in a more timely manner, without the investment in communications resources and equipment.

Use our online registration form to register for our services and receive significant discounts, particularly if your organization is a non-profit.
Types Of Auto Dialer Campaigns
The DSC auto dialers call numbers that are maintained on a computer system. These auto dialers deliver phone messages to answering machines or individuals. Calls can be distributed to live operators in some calling campaigns. There are several types of auto dialing techniques that are supported by our modern call center phone systems.


Voice Broadcast Dialer. This type of calling campaign delivers a recorded message to live answers and answering machines. If a non-answer call status is detected (busy, etc.), the autodialers can reschedule the call for a later time. Simple messages can be delivered or the call recipient can be presented with an outbound IVR script that accepts phone keypad responses.
The remaining types of autodialers are used in conjunction with live phone agents. These agents are either local to the calling center or are working from their homes or in remote offices.
Analog and Digital Auto Dialers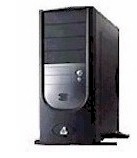 Database Systems Corp. provides two different types of auto dialer computer phone systems. The WIZARD auto dialer is our entry level system that supports up to 48 analog phone lines. If your calling campaigns require more phone lines, the PACER auto dialer can deliver phone calls over hundreds of digital phone lines.

Both of these modern dialers are affordable and flexible. These systems include a Windows PC with Dialogic software and computer telephony boards . When combined with our award winning IVR software, these telecommunications systems can concurrently perform both inbound call distribution as well as outbound calling campaigns.


Call DSC Today
Contact DSC for a FREE analysis and quote and to learn more about our auto dialers.