Sales Support Services
Automatic Marketing Support By Phone
Sales Support Systems and Services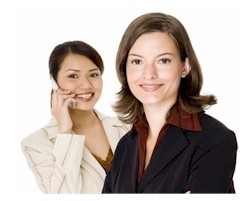 Database Systems Corp. (DSC) provides call center technology including automated phone services and complete, turnkey phone systems.
Sales and Marketing Support?
"Marketing is the process of planning and executing the conception, pricing, promotion, and distribution of ideas, goods, and services to create exchanges that satisfy individual and organisational objectives.

Sales is a practical implementation of marketing; a sales team and a marketing team are often separate groups within a business structure.

Sales and marketing support are tools that assist these teams in achieving their goals."
DSC provides a comprehensive phone service that helps sales and marketing organizations provide timely and accurate information to customers, prospects, distribution outlets, and third party sales organizations.

This includes voice broadcasting phone messages to any of the above groups. Information such as sales discounts, new product offerings and discontinued items or out of warranty information can now be broadcast instantly to various target groups. Calls can also be automatically placed to remind customers of ordered product shipments as well as delays.
Sales and Marketing Support Functions
The following are just a few of the announcement applications of voice broadcasting within a sales and marketing organization.
New product and service announcements
Price reductions or increases
Opening of new offices or markets within a region
Announcing new distributors
Product discontinuance
Change in service policies
Announcing corporate or regional meetings
Contacting managers for conferencing
Emergency notifications and alerts
Contact DSC to learn more about our sales support and marketing phone services. For a list of other applications and services provided by DSC, please visit our Phone applications web page.


---
Subaru of America, Inc.

"Subaru of America, Inc., (SOA), is the exclusive United States marketer of Subaru products manufactured by Fuji Heavy Industries Ltd. of Japan. Headquartered in Cherry Hill, N.J., SOA serves nearly 600 dealers nationwide." - www.subaru.com

Subaru of America, Inc. is a wholly owned subsidiary of Fuji Heavy Industries Ltd. of Japan. Subaru utilizes Our phone message delivery services at Database Systems Corp. to update both field sales force personnel and automobile dealerships. Messages are sent containing information regarding product updates and promotional guidance.
---
Sales and Marketing Support Reports
An important feature of our marketing and sales support phone service is the ability to produce real time reports and graphs.

Our voice broadcast reporting system helps you observe and control the performance of your call notification program with clear and meaningful displays.

Voice broadcasting graphs and charts of operational statistics let you measure the effectiveness of each marketing phone campaign as it is running.

The statistical information contained in each of these reports can be downloaded into a spreadsheet format for individually customized reporting.


Call Us Today
Contact DSC to learn more about our sales support phone services and systems.



Announcements
Public Service
RSVP Calling Service
School Announcements
Student Wake-Up Calls
Church Calls
School Calls
School Calling Service
Send School Calls
School Closures
Church Announcements
Send Church Calls
Church Welcome

Reminders
Medication Reminder
Past Due Reminder
Delivery Notification
Payment Reminder
Notification Services
Patient Appointments
Pill Reminders
Order Status Reminder
Event Reminders
Marketing Reminders
Call Notification
Appointment Reminders
Service Reminder Calls
Blood Bank Donation
Campus Alert Services
Baby Announcements

Marketing
Insurance Marketing
Mortgage Marketing
Retail Marketing
Real Estate Marketing
Subscription Renewals
Sales Management Phone Services
Sales Support Service

Group Calling
Home Owner Notification
Alumni Contact Service
Condominium Calls
Mobile Home Park Notification
Contact Club Members
Send Team Calls

Community
Telephone Reassurance
Emergency Broadcasting
Community Contact Service
Public Warning Service
Political Voice Broadcast
Political Activism Calls
IVR Polling
Political Marketing