Sales Management Services
Automatic Sales Management By Phone
Sales Management Phone Services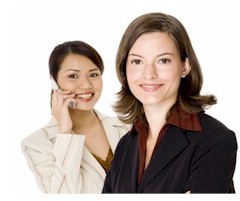 Database Systems Corp. (DSC) provides call processing technology including phone systems that automatically deliver voice messages to thousands of individuals or answering machines.
What Is Sales Management?
"Sales Management includes features for creating the sales force; organizing the sales force, sales forecasting and sales planning, identifying potential customers, maintaining client information, and creating and managing schedules."
DSC provides a comprehensive phone service that helps sales and marketing organizations provide timely and accurate information to customers, prospects, distribution outlets, and third party sales organizations.

This includes sending phone messages to all of the above groups. Information such as sales discounts, new product offerings and discontinued items or out of warranty information can now be broadcast instantly to various target groups. Calls can also be automatically placed to remind customers of ordered product shipments as well as delays.

Contact DSC to learn more about our sales management phone services. For a list of other applications and services provided by DSC, please visit our phone applications web page.


---
ING DIRECT

"At ING DIRECT, we do things the direct way. We do business online, over the phone and by mail. Without the overhead and high operational costs of other banks, we can pass the savings onto our customers." - home.ingdirect.com

ING DIRECT utilizes the phone message delivery services at the Database Systems Corp. call center to update both field sales force personnel and sales agent with important sales and marketing information. ING DIRECT sends phone messages containing information regarding upcoming sales seminars and events local to each sales agent.
---
Sales Management Support Functions
The following announcements are just a few of the many applications of phone message broadcasting within a sales management organization.
Contact direct sales organization
Sending information to sales agents
Distributor communications
Obsolete product discontinuance
Sales seminar scheduling
New service announcements
Product enhancement releases
Price updates and discount programs
New offices or markets announcements
Change in terms of service
Announcing sales meetings
Conference announcements
Emergency notifications and alerts
Sales Management Reports
An important feature of our sales management phone service is the ability to produce real time reports and graphs.

Our voice broadcasting report system helps you observe and control the performance of your sales management and control program with clear and meaningful displays.

Voice broadcast graphs and charts of operational statistics let you measure the effectiveness of each calling campaign as it is running. To view sample sales management reports, please click on the graph to the right.


Call Us Today
Contact DSC to learn more about our sales support phone services and systems.



Announcements
Public Service
RSVP Calling Service
School Announcements
Student Wake-Up Calls
Church Calls
School Calls
School Calling Service
Send School Calls
School Closures
Church Announcements
Send Church Calls
Church Welcome

Marketing
Insurance Marketing
Mortgage Marketing
Retail Marketing
Real Estate Marketing
Subscription Renewals
Sales Support Service

Group Calling
Home Owner Notification
Alumni Contact Service
Condominium Calls
Mobile Home Park Notification
Contact Club Members
Send Team Calls

Community
Telephone Reassurance
Emergency Broadcasting
Community Contact Service
Public Warning Service
Political Voice Broadcast
Political Activism Calls
IVR Polling
Political Marketing