Community Contact Services
Phone Services Call Community Volunteers
Community Member Phone Contact Services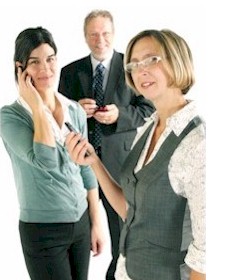 Database Systems Corp. (DSC) has been providing computer and software related products and services since 1978.

DSC provides phone message delivery systems that automatically broadcast hundreds to thousands of phone messages.

This voice broadcast technology can help any public community or private group communicate effectively with its members.

Using our automatic phone message delivery systems, we can broadcast both emergency and non-emergency calls to the community at large or to selected members of a community. Messages can be sent to individuals or left on an answering machine. Busy signals and no answers can be re-dialed multiple times to hep ensure delivery.

This service can be managed online using our secure website and call center. Voice broadcasting is an effective means of contacting community members when other methods are not sufficiently reliable or when immediate communication is required.
Register Online And Save!
If you wish to use our voice broadcasting phone services, DSC is pleased to offer significant discounts when you use our Online Registration Form.




Start Calling In Just Minutes!. Using our new online signup lets you get started immediately with your calling campaign. Simply create an account and agree to our standard terms and conditions. Then download your list of phone numbers and record a message. We accept major credit cards and for as little as $25, you can begin calling. Its that simple!

Contact DSC to learn more about our community volunteer contact and notification phone services. For a list of other applications and services provided by DSC, please visit our phone applications web page.
Community Contact Service Applications
The following are just a few of the different types of community groups that can utilized this service along with the applications of this technology within private volunteer groups.


Community Service Volunteers
Rotary Clubs
Charitable Donation Requests
Emergency Response Volunteers
Volunteer Fire Departments
Canned Food Drives
Community Emergency Notifications
Homeless Shelter Maintenance Groups
Fund Raiser Volunteers
Telethon Call Volunteers
Volunteer Assisted Medical Programs
Community Cleanup Programs
Food Bank Donation Requests
---
Trinity Fellowship Church

"Trinity Fellowship holds three large annual outreach events: the Back-to-School Outreach, the Thanksgiving Outreach, and the Christmas Toy Outreach. Also, Trinity weekly distributes food and clothing to unfortunate families, sharing God's love with them in tangible ways." - tfchurch.org

Trinity Fellowship Church has contracted with Database Systems Corp. to provide phone message broadcasting services to its members. Messages are delivered to answering machines and individuals for many reasons. These may include contacting members of the church community seeking volunteers. Likewise calls are made for event notification, especially funeral announcements where there is a very short window of time to notify its membership.
---
How To Use Our Community Broadcast Services?
Subscribing to our community notification service is easy and affordable. After registering your community for this service, DSC will assign your group a unique ID and password for our online services. Here are the basic steps required to send out a phone message broadcast.
Go online to our secure website and login.
Create or download lists of contacts within your community.
Record phone messages (any number) and download them.
Phone messages can be recorded using our 800 number.
Select a list and message that you've stored.
Press the "Start" button online.
If needed, call our 800 number to initiate an emergency broadcast.
To view the progress of your broadcast, use our online reports.
Its that simple!
Call Us Today
Contact DSC to learn more about our phone services and systems.