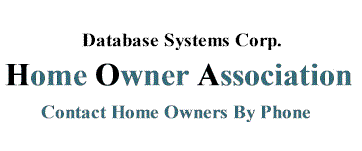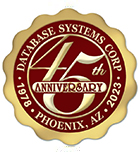 Home Owner Association Notification Services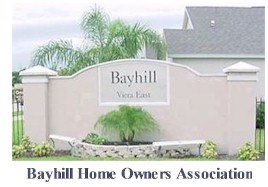 Database Systems Corp. (DSC) provides complete phone notification and alert services as well as turnkey phone systems.

DSC provides state-of-the-art technology that can help your HOA (home owner association) or condominium association communicate effectively with its members.

Using our call center phone systems, we can deliver both emergency and non-emergency phone messages to these members.

This service can be an effective means of communicating with members when other methods are not fast enough or sufficiently reliable.
What Is A Home Owner Association Contact Service?
"Modern homeowners associations develop and govern detailed rules regarding construction and maintenance of individual homes. They collect fees, fines, and other assessments from homeowners, maintain the common areas of the development, and enforce the association's governing documents.

There are times when association members need to be contacted immediately. For a larger HOA, an automatic message delivery service that calls each homeowner fulfills this critical need."
Home Owner Notification Applications
The following are just a few of the HOA call applications that can be performed within your home owner association group:
Announce special home owner association meetings.
Provide home owners with real time notices
Notify homeowners during an emergency evacuation.
Call members warning of a natural disaster such as a hurricane.
Notify homeowners of pending power or service outages.
Call HOA members when their dues are delinquent.
Broadcast special HOA event notifications.
Send out requests for volunteers.
Notify HOA members when homes are coming on the market.
Emergency HOA notification and contacts.
Contact DSC to learn more about our home owner notification phone services. For a list of other applications and services provided by DSC, please visit our Phone applications web page.


---
John Hancock Home Owner Association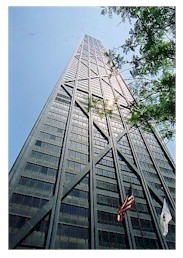 John Hancock Center
175 E. Delaware Place, Chicago, IL


"Completed in 1969, the John Hancock Center still rivals as one of the world's most recognized buildings! The building offers the best North Michigan Ave location, unsurpassed amenities and needless to say some of the most spectacular views in the city of Chicago. "

The John Hancock Homeowner Association uses our HOA calling services and facility to provide emergency voice messages to the residents of the center. Calls are delivered to both answering machines and tenants. Phone calls may be activated by association officers via the internet or by calling our 800 number.



---
Home Owner Notification Reports
An important feature of our call notification and alert service is the ability to produce real time reports and graphs.

Our voice broadcast reporting system helps you observe and control the performance of your call notification program with clear and meaningful displays.

Voice broadcasting graphs and charts of operational statistics let you measure the effectiveness of each call notification campaign as it is running.

The statistical information contained in each of these reports can be downloaded into a spreadsheet format for individually customized reporting.


Call Us Today
Contact DSC to learn more about our phone services and systems.



Announcements
Public Service
RSVP Calling Service
School Announcements
Student Wake-Up Calls
Church Calls
School Calls
School Calling Service
Send School Calls
School Closures
Church Announcements
Send Church Calls
Church Welcome

Group Calling
Home Owner Notification
Condominium Calls
Mobile Home Park Notification
Contact Club Members
Call Team Members
Labor Union Calls
Workforce Management