Emergency Management IVR
Using IVR During Emergency Broadcasts

Emergency Voice Broadcasting with IVR Management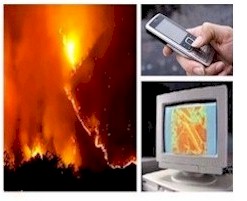 Database Systems Corp. (DSC) is a leading provider of interactive voice response (IVR) technology. The use of IVR during an emergency can prove to be a highly effective tool when mass communication is required to deliver important messages to a community.

Automated emergency messages can be delivered when an emergency response center is unavailable or has limited personnel. Community alerts can be sent with sufficient information provided to call recipients.

Using this technology, an IVRS (IVR system) can be a force multiplier for an emergency response center, providing more information to more callers in less time. A standard message can be delivered, minimizing confusing instructions.
What Is IVR?
IVR, short for Interactive voice response, is a phone system technology that allows a caller (or call recipient) to choose options from a menu. Generally an IVR presents a message and then provides a list of options to the caller. The caller makes selections by touching a phone key or by speaking into the phone.
IVRs are employed in some 911 response centers and present the caller with a simple selection menu. In these cases, the 911 IVR answers the phone with a statement "If this is not an emergency, call the police at...". If there is an emergency, an option is presented to press "1" or simply wait and the next available 911 operator respond to the call.

One of the critical features of a 911 IVR is the ability for the caller to speak immediately with the operator. This may not be feasible in some situations, but in most emergencies it is important that an operator is available to handle the call. This option must be available in all levels of a 911 IVR menu.

Contact DSC to learn more about our IVR used in conjunction with our emergency management calling programs.
Emergency Voice Broadcasting With IVR
Emergency voice broadcasting is the transmission of an emergency alert recorded message to selected individuals or an entire community. During certain emergency broadcasts, an IVR can be embedded within the alert message. For example, an emergency dispatch operation can be automated whereby emergency alert messages are sent to first responders informing them that an event has occurred that requires attention. A responder contacted in this manner can be provided with the option to acknowledge the call and to provide an availability status. Likewise, the call can be transferred to a dispatcher if necessary.


---

"ConocoPhillips is an international, integrated energy company. It is the third-largest integrated energy company in the United States, based on market capitalization, oil and gas proved reserves and production; and the second-largest refiner in the United States. Worldwide, of nongovernment-controlled companies, ConocoPhillips has the sixth-largest total of proved reserves; and based on crude oil capacity, is the fifth-largest refiner." - www.conocophillips.com

ConocoPhillips selected Database Systems Corp. to provide emergency communications services at our voice broadcasting center for its Houston headquarters. ConocoPhillips utilizes our voice broadcast services to notify its employees in the event of an emergency in any of its oil drilling operations in Saudi Arabia. Employees are provided an 800 number to call to obtain further information which is processed by our IVR call center.
---

The general public can likewise be called during an emergency using a community alert system with IVR. In the event of a disaster, a large emergency broadcast can be initiated contacting the public with information about the disaster or event. If an action is required of the public, such as the evacuation of a neighborhood, information can be provided to the resident in the message. Likewise, if the resident requires special assistance, the call can be routed by the IVR to an emergency call center or an 800 number can be provided in the message for the recipient to call.


Emergency IVR Features
The following are a few of the features of an emergency voice broadcasting application that uses IVR technology:
Emergency Voice Broadcast (EVB) Messages with embedded IVR menus
EVB Messages with toll free number to call
Emergency IVR program answers the toll free number
EVB manager updates IVR messages online or by phone
EVB IVR plays emergency information messages to callers
EVB IVR routes callers to live emergency operators
IVR and Emergency Information Centers
Inbound emergency call centers can effectively use IVRs to perform many functions. The IVR could be programmed to simply route the inbound call to the appropriate department or response group. For example, if the same center is used for both emergency responders as well as the public, the IVR can route calls appropriately. If the call is a non-emergency, it can be queued in a lower priority, thus allowing emergency calls to jump ahead of other, non-critical calls.

IVRs can provide critical information 24 hours a day during an emergency. If callers need to locate the nearest shelters during a disaster, the IVR can use caller information (such as caller id or zip code) to locate the closest emergency support center.

Virtually any information that needs to be provided to the public or first responders can be programmed into the IVR. But as emphasized above, the ability to speak with an operator must be provided at all levels of an IVR menu.
IVR and Emergency Management
An IVR can also be effectively used when administering the IVR phone system itself. During an emergency, an administrator can use an IVR to control the emergency broadcast. The IVR can prompt the administrator for a PIN number to gain a secure access to the phone system. The actual emergency message can then be either selected using the IVR or recorded over the phone. The administrator then selects groups or individuals to be called by making touch phone selections from an administrative IVR menu. Finally the emergency voice broadcast can be initiated by selecting an option from the phone key menu.

This ability allows emergency administrative personnel the flexibility to launch an emergency notification using any landline or cell phone from anywhere with phone service.
Emergency Call Reports
An important feature included with our IVR systems and IVR services is our extensive IVR development reporting system. These reports provide the administrator with a complete view of the performance of IVR campaigns and include graphical presentation of data as well.

This online reporting and feedback system helps you observe and control the performance of your automatic call answering services.

IVR graphs and charts of operational statistics let you measure the effectiveness of each phone campaign as it is running. The statistical information contained in each of these reports can be downloaded into a spreadsheet format for individually customized reporting.
Call Us Today
Contact DSC for a FREE analysis and quote and to learn more about our IVR management software and services.



Alerts and Notification
Telephone Reassurance
Community Contact Service
Public Warning Service
Political Activism Calls
IVR Polling
Political Marketing



IVR Information

IVR Phone
Voice Portal
IVR Management
Digital IVR
Analog IVR
Outbound IVR
IVR Technology
IVRS
IVR Vendor
IVR Implementation
IVR Programming