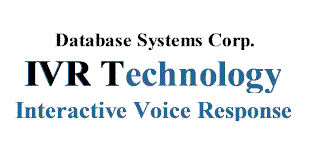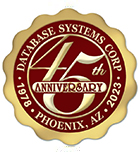 Digital IVR Systems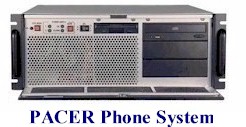 Database Systems Corp. (DSC) is a leading provider of automated call center phone systems and outsourcing services including IVR phone solutions.

An Interactive Voice Response (IVR) processes inbound phone calls, plays recorded messages including information extracted from databases and the internet. It can then route calls to either in-house service agents or transfer the caller to an outside extension. It enhances our phone system's current robust features of predictive dialing, ACD, and digital call recording.

By responding to prompts provided by our IVR system, callers can now receive any information you choose to make available. Customer contact centers in particular can become instantly more productive by letting the phone system gather caller information, verify caller identity, process the caller's request and, if necessary, determine the best service representative to handle this request.

Our PACER phone system supports multiple digital T1's with capacity from 24 to 500 phone lines. These IVRS (IVR systems) can be networked to provide call applications for virtually any sized call center or phone answering center. With our "Open IVR" network approach, IVR applications can be developed on separate servers that control the flow of information and the transfer of inbound calls.

Contact DSC to learn more about our digital T1 IVR platform and outsourcing services.


---
Customer Profile - Go To Traffic School

"Go To Traffic School is the Internet's most popular online traffic school course. We have online traffic school programs for ticket dismissal, insurance reduction, safe driver points, and fleet driver safety programs.

This program is best suited for those who have received a traffic ticket and would like to take traffic school online so that the traffic ticket does not appear on their record, those who would like to lower their insurance premiums, and those who need to take a driver safety course for their work. ." - www.gototrafficschool.com

GoToTrafficSchool.com utilizes our digital phone system to provide automated IVR testing for their students. Student enrollees can complete their driving school tests online or over the phone.
---
Digital IVR System Features
Our PACER digital IVR phone systems are industrial quality computers and computer telephony boards with Dialogic IVR from DSC. We custom install your application at our facility - simply plug in your digital phone lines and follow our simple voice broadcasting installation wizard.
Standard IVR System Features
Industrial Quality PC (Monitor Optional)
Intel/Dialogic Telephony Card(s)
24 - 336 Digital Lines Per System
Multiple Networked Systems Working In Parallel
Windows OS
DSC Phone Software
Multiple IVR Programs
IVR Software
Text To Speech Integration
Touch Phone Navigation
Hearing Impaired TDD / TTY Phone device support
Call Monitoring and Recording
Message Forwarding
Options and Upgrades
Customized IVR Software
Concurrent Outbound Voice Broadcast functionality
LINUX, Unix, Windows Development Kit
Custom IVR Application Development
XML Push Voice Messaging
Professional Voice Over Messages
CRM Expansion Option with Agent Support
---
IVR Software Features
Our IVR software features a rich library of routines that connect our computer systems with our advanced call center phone systems. These routines are used by our professional programming staff to develop virtually any type of phone campaign your organization requires. If you have programmers on staff and wish to develop your own applications, our online IVR software manual is available as well.
Multiple Digital T1 Line Support (24 - 1000 lines)
Networked IVR Systems For Unlimited Growth
Analog Solution (1 - 24 lines)
IVR Client/Server Architecture
800 Number Systems and Toll Free Systems
DNIS Controlled
Multiple IVR Scripts
IVR Play Message and Prompt
Automated Voice Response Phone Key Input
IVR EZTRAN Flow Control
Database Access and Update
Text To Speech Software (TTS)
Mix IVR Messages and Text
Play Music On Hold
Call Outside Line and Transfer IVR Call
Call Outside Line and Prompt for Input
Connect Caller to Outside party
Record IVR Caller Message and Store
User Navigation and Selection
IVR Voice Mail
Route Caller to Selected IVR Agent Groups
T1 Predictive Dialer Support
C or C++ IVR library
IVR Response Logging and Reports
Linux IVR Support
Windows and Unix IVR Software
Call Us Today
Contact DSC to learn more about our digital IVR phone systems and IVR services.



IVR Information
Custom IVR Development
Analog IVR
Audio Response Unit
Phone Surveys
IVR Contests
Call Center IVR
IVR Phone
Voice Portal
Outbound IVR
CTI IVR
DNIS
ANI
IVR Technology
IVR Management
IVR Hosting
IVR Surveys
CATI
Phone Interview
VUI
VRU
IVR Suppliers
IVR Implementation
IVR Programming
IVR Outsourcing