Text To Speech
IVR and Voice Broadcasting Applications
TTS (Text To Speech) Software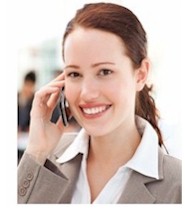 Database Systems Corp. provides call processing technology for both commercial and government applications. DSC has developed a complete line of automatic phone answering systems and message broadcasting solutions.

The DSC phone systems feature interactive voice response (IVR) capability enriched by Text To Speech software (TTS).

Voice broadcasting systems deliver phone messages to thousands of individuals. These messages may contain custom information unique to each called individual such as appointment dates and times.

DSC Text-To-Speech software extracts variable information from a database (or from the Web) and converts it to audible speech. Practical applications include providing callers with account information, weather updates, sports scores, and stored text messages.

Contact DSC for a free quote and information about our text to speech software and phone applications. For a complete list of other call processing features, please visit our phone system features web page.
Johns Hopkins University

"The mission of The Johns Hopkins University is to educate its students and cultivate their capacity for life-long learning, to foster independent and original research, and to bring the benefits of discovery to the world."

Researchers at Johns Hopkins University utilize our IVR hosting services and interactive voice response data center to manage automated surveys of student volunteers. Johns Hopkins is collecting behavioral information over an extended period of time for long term health care research.
---
Phone Applications Support Microsoft SAPI V5.1
IVR and Voice Broadcasting systems from DSC support Microsoft SAPI (Speech API), version 5.1. This feature allows the integration of many different speech engines including Microsoft Text To Speech and ATT Natural Voices. DSC also can license text to speech software with its systems.
Call Us Today
Contact DSC for a free quote and information about our text to speech applications.



IVR Information
IVR Solution
IVR Call Center
IVR Phone
Voice Portal
Outbound IVR
IVR Technology
IVR Management
IVR Hosting
IVR Vendor

Phone Features
Hunt Group
PSTN
Direct Inward Dialing
Music On Hold
Night Answering
Call Blending
Plain Old Telephone Service
Conference Call
Skills Based Routing
Voice Response System
DNIS Software
ANI Software
Call Recording
Call Monitoring
Text To Speech
Screen Pop