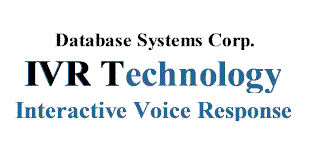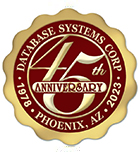 Analog IVR Systems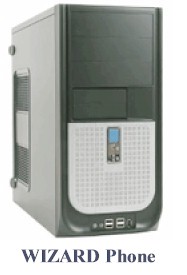 Database Systems Corp. (DSC) is a leading provider of automated call center phone systems and outsourcing services including voice broadcasting.

DSC now offers an affordable and expandable Interactive Voice Response (IVR) phone system. Features include our easy to use IVR Wizard software that leads you step by step through the development of your own custom phone applications. You can program your own system or we can provide you with a custom IVR application. These applications can be easily ported to our digital T1 IVR system (PACER) when your call volume requires a larger system.

IVR (Interactive Voice Response) is a technology that automatically answers your phone system with voice prompts and call routing. IVR systems are very popular for service and sales organizations, allowing customers and prospects to call your organization anytime of the day.

Using our trademarked IVR Wizard software, phone applications can be developed in minutes. Complex surveys and call routing can be easily developed using our software.

And if your organization grows and requires digital T1 phone lines, your IVR applications can be automatically transferred to our digital IVR system known as the PACER phone system.

Contact DSC to learn more about our WIZARD IVR phone systems and outsourcing services.


---
Customer Profile - Sara Lee

Sara Lee Corporation is a global manufacturer and marketer of high-quality, brand-name products for consumers throughout the world. With headquarters in Chicago, Sara Lee Corporation has operations in 55 countries and markets branded products in nearly 200 nations. The corporation employs 145,800 people worldwide. Sara Lee Corporation's leading brand names are household words around the globe. Sara Lee's preeminent brands are built on consumer needs and expectations, offering exceptional quality and value.

Sara Lee acquired an analog IVRS (IVR systems) from Database Systems Corp. to process after-hour orders for it's clothing and apparel line of products. Using simple voice prompts, this system allows consumers to place orders for these clothing products without the need for a sales representative. Orders are processed the following business day.
---
Analog IVR System Features
Our WIZARD analog IVR phone systems are new office environment computer telephony systems. These systems are composed of PC and Dialogic telephony boards. Our WIZARD phone systems are NOT kits. We custom tailor each system to meet your requirements and thoroughly test your application at our facility. When shipped to your location, simply plug in your analog phone lines and this phone system is ready to operate.
New Office Environment PC (Monitor Optional)
New Intel/Dialogic Telephony Card(s)
4, 8, 12, 24, or 48 Analog Line Configurations
Windows OS
DSC IVR Software
Multiple Phone Programs
Development Wizard
Text To Speech Integration
Touch Phone Navigation
Information Service
Call Recording
Message Forwarding
Dial Out Connectivity
Options and Upgrades Include:
Outbound Voice Broadcasting Feature
Music On Hold Upgrade
LINUX, Unix, Windows Development Kit
Custom Application Development
Upgradeable to our Digital PACER Phone System
IVR Software Features
Our IVR Software features a rich library of routines that connect our computer systems with our advanced call center phone systems. These routines are used by our professional programming staff to develop virtually any type of phone campaign your organization requires. If you have programmers on staff and wish to develop your own applications, this library is available to you as well.
Visual Basic interface
Extensive IVR software library of routines
Client/Server Architecture
DNIS Controlled
Voice Mail IVR
Multiple Scripts
Play Message and Prompt
Play Music On Hold
Mix Messages and Text
Call Outside Line and Transfer Call
Call Outside Line and Prompt for Input
Connect Caller to Outside party
Record Caller Message and Store
C or C++ library
User Navigation and Selection
Interactive Voice Response Phone Key Input
Route Caller to Selected Agent Groups
Database Access and Update
Software Programming Wizard for Fast Development
Text To Speech Software
Response Logging and Reports
Call Us Today
Contact DSC to learn more about our analog IVR phone systems.



IVR Information
Custom IVR Development
IVR Services
Voice Response System
Audio Response Unit
IVR Testing
IVR Consulting
Phone Surveys
IVR Contests
IVR Call Center
IVR Phone
Voice Portal
Outbound IVR
CTI IVR
DNIS
ANI
IVR Technology
IVR Management
IVR Platform
IVR Hosting
IVR Surveys
CATI
Phone Interview
VUI
VRU
IVRS
IVR Suppliers
IVR Implementation
IVR Programming
IVR Outsourcing