Predictive Dialer Software
Advanced Call Center Technology

Predictive Dialer Software Solutions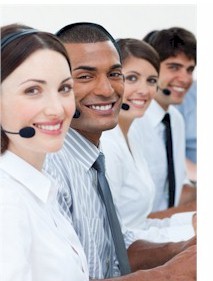 Database Systems Corp. (DSC) is a leading provider of call center products and services including Predictive Dialer software and phone systems.

For several decades, DSC has been providing state-of-the-art phone systems and software. Our predictive dialing software is the essential component of these phone systems. Our sophisticated list manager organizes phone lists into demographically related groups and passes phone numbers to our predictive dialer. This function can be performed on the same system as the predictive dialer or can be a separate processor.

The predictive dialer is managed by our proprietary pacing algorithm that uses many factors in determining how many phone numbers should be dialed to keep a specific number of agents busy, while avoiding calling too many numbers.

Once the call has been connected and transferred to a phone agent, our client predictive dialer software manages the agent's desktop program. It communicates with the list manager and dialer to effectively manage the flow of information between these systems.

Contact DSC to learn more about our predictive dialer software and phone systems.
Predictive Dialer Agent Software
The DSC Softphone can connect your phone agents to our phone system in several ways. If you have an existing web or PC application that requires integration with our predictive dialer, we can provide you with a complete CTI softphone library of phone related functions that you can embed in these applications.

Our sophisticated Soft Phone can be used with an existing Web application, without any modification to your existing web programs. Also, our Softphone application can reside on your agent's PC that simply gives your operators phone functionality from the desktop.

DSC also provides a complete CRM application for centers that require this type of contact management solution fully integrated with our predicive dialer.

With all of these options, your service representatives can be working from your office where your predictive dialer resides or they can work from home using the high speed internet.
Predictive Dialer Phone Systems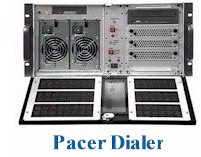 DSC offers several affordable and expandable predictive dialer phone systems. These call center phone systems include a Windows PC with Dialogic computer telephony cards. When combined with our predictive dialer software and interactive voice response (IVR) software, these phone systems can perform both inbound call answering functions as well as many different types of outbound calling campaigns at once.

The WIZARD phone systems are our entry level call center auto dialers that support up to 48 analog phone lines. If your contact center requires more lines, our PACER auto dialer can be used to deliver outbound phone calls over hundreds of digital phone lines.
Call Us Today
Contact DSC for a FREE analysis and quote and to learn more about our PACER and WIZARD predictive dialers.



Auto Dialers
Auto Dialer
Computer Phone
Phone Dialer
CTI IVR
DNIS Software
Preview Dialer
Progressive Dialer
Predictive Dialing
Predictive Dialer Simulation
Smart Predictive Dialers

Voice Broadcasting
Message Broadcast
Phone Message
Automated Messaging
Computer Generated Calls
Message Dialer
Telephone Broadcast
Send Phone Messages
VoiceXML Broadcast
Mass Calling
Group Messaging
Robo Calls
Automatic Phone Alerts
Voice Broadcast
Voice Broadcast Simulation
Reminders
Voice Broadcasting Systems
Mass Communications
Mass Broadcasting
Voice Broadcast Software
Voice Broadcasting Services
Telephone Messaging
Voice Message Broadcasting
Phone Blasting
Voice Blasting
Calling Tree