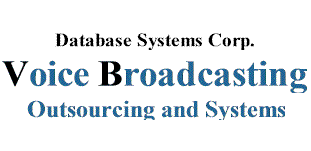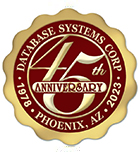 Mass Broadcasting Solutions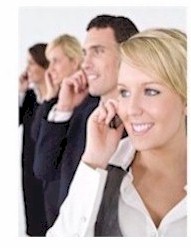 Database Systems Corp. (DSC) provides phone systems and software for the call center industry including mass broadcasting systems and outsourcing services.
What Is Mass Broadcasting?
"Mass Broadcasting is a communications technique that transmits phone messages to thousands of call recipients at once using computer telephony programs.

Emergency notifications can be delivered to members of a community quickly and efficiently. When used as a direct marketing technique, a phone message can be delivered to a large group of prospective clients at once."
DSC offers a very cost effective method of contacting thousands to millions of households using mass phone broadcasting. This calling method involves automatically dialing hundreds to thousands of numbers at once using computer managed lists, playing a pre-recorded message to both individuals and answering machines.

Mass broadcast programs are far more cost effective than using traditional mailers - just pennies a call for large volumes. This modern communication technique is very effective for political campaigns and charitable organizations.

Mass broadcasting is very effective for political campaigns, mass marketing programs, and community service organizations.
Register Online and Save!
If you wish to use our voice broadcasting phone services, DSC is pleased to offer significant discounts when you use our Online Registration Form.




Start Calling In Just Minutes!. Using our new online signup lets you get started immediately with your calling campaign. Simply create an account and agree to our standard terms and conditions. Then download your list of phone numbers and record a message. We accept major credit cards and for as little as $25, you can begin calling. Its that simple!

Contact DSC to learn more about our mass broadcasting systems and services. To learn how to use our voice broadcasting services, click on the Voice Broadcast Quick Tour. (Popups must be enabled on your browser).


---
Customer Profile - KB Home

"KB Home has been considered one of the best homebuilders in the country for nearly half of a century. Our homeowners enjoy high quality construction, unique architecture and quality, trusted brands. That's why KB Home is the builder of choice for so many satisfied homeowners." - www.kbhome.com

KB Home utilizes our mass broadcasting services to contact individual home buyers who have expressed an interest in being notified when a new KB home development is opened. KB Home records custom messages and downloads lists of prospective buyers using our outsourcing center. Our call center then contacts these prospective buyers providing them with a recorded message indicating where a new development has opened and giving them instructions on how to contact their sales organization.
---
How To Use This Service
Our online mass broadcasting service is easy to use and secure. Once you've registered for our service, follow the simple steps to initiate a mass calling campaign.
Create and save one or more list(s) of call recipients.
Record your phone message (either offline or using our 800 number).
Push "Start" broadcast button.
Mass Broadcasting Features
Bulk Message Broadcast Services
Mass Voice Message Services
Voice Message Broadcast Hosting
Comprehensive Call Management
Professional Voice Over Prompts
Do Not Call Compliance Automatic Check
Override Exempt DNC Compliance
One Flat Fee Per Supplied Number
Optional "Press Through" Flat Fee Feature
Quality Transcription Services
Online Reporting System
Call Us Today
Contact DSC to learn more about our mass broadcasting phone services.



Voice Broadcasting
Message Broadcasting
Phone Message
Automated Messaging
Call Messaging
Message Dialer
Phone Broadcasting
Voice Broadcasting Systems
Mass Communications
Voice Broadcast Software
Voice Broadcasting Service
Telephone Messaging
Voice Message Broadcasting
Phone Blast
Voice Mail Broadcasting
Voice Blast
Calling Tree

Auto Dialers
Auto Dialer
Computer Phone
Phone Dialer
Autodialers
CTI IVR
DNIS Software