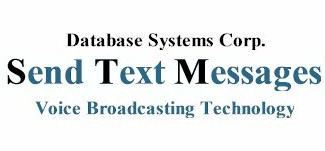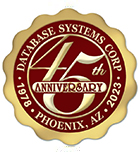 Automatic Text Message Broadcast Solutions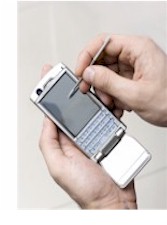 Database Systems Corp. (DSC) provides automatic text messaging services for companies and organizations. For over 30 years, DSC has been successfuly providing technology products and services to customers throughout the world. DSC has developed computing products for call processing centers including phone systems and application development software and tools.

Call processing services from DSC include automated phone answering services and message broadcasting services.

Sending automatic text messages to a large group of mobile devices is a gaining popularity, particularly with targeted phone audiences such as employees or discreet groups of clients. Text messaging members of a community during an emergency alert is also gaining popularity.

Commercial text messages can be sent to specific clients or to a select group of vendors. Automated text messages can be delivered to community members in the event of an emergency that affects a large number of individuals.
What Is Automated Text Messaging?
Text messaging, or texting is the common term for the sending of "short" (160 characters or fewer, including spaces, newer phones can hold up to 20 pages of 160 characters) text messages from mobile phones using the Short Message Service (SMS). It is available on most digital mobile phones and some personal digital assistants with on-board wireless telecommunications. Auto text messaging is the process of delivering these messages automatically from a computer system.
Contact DSC to learn more about our how to send automatic text messages to your customers and community members.
Register Online For Text Message Services

DSC now provides an online signup for non-profit and commercial organizations wishing to use our voice message broadcasting and Text Messaging service.


How To Use Our Auto Text Message Services
Our online message delivery service is easy to use and it's secure. Once you've registered for our service, here are the simple steps required to send automatic text messages.
Create and upload one or more list(s) of call recipients.
Enter your text message.
Push "Start" message broadcast button.
That's it. For an online tour of our message broadcast service, visit our message broadcasting demonstration page.
Call Us Today
Contact DSC to learn more about our automatic text messaging service and systems.



Text Messaging
SMS
Short Message Service
Text Messaging
SMS Broadcasting
Text Messages
SMS Outsourcing
Send Text Messages
Send SMS Messages
Voice Text Messaging
Text Message Services

Voice Broadcasting
Phone Message
Automated Messaging
Call Messaging
Message Dialer
Phone Broadcast
Voice Messaging
Voice SMS Messaging
VoiceXML Broadcast
Voice Broadcast
Telephone Messaging