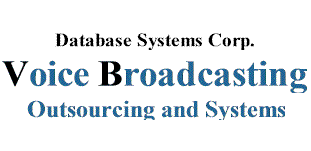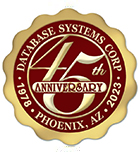 Computer Generated Calls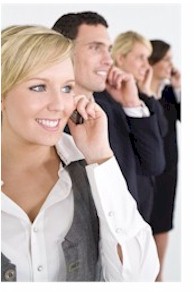 Database Systems Corp. (DSC) provides call processing products and outsourcing services including computer generated phone calls.

Automated calling is a mass communications technique that sends pre-recorded voice messages to hundreds or thousands of call recipients at once. This technology has both business and public applications.
Commercial calls can be sent to existing customers or communities can broadcast alert messages to their members in the event of an emergency.

These computer generated phone messages can be delivered to both individuals and answering machines. If computer phone system detects a no answer condition or busy signal, the message can be scheduled for delivery at a later time. Complete online reports are available to view the effective delivery of messages in this fashion.
Register Online For Automatic Calling Services
If you wish to use our voice broadcasting phone services, DSC is pleased to offer significant discounts when you use our Online Registration Form.




Start Calling In Just Minutes!. Using our new online signup lets you get started immediately with your calling campaign. Simply create an account and agree to our standard terms and conditions. Then download your list of phone numbers and record a message. We accept major credit cards and for as little as $25, you can begin calling. Its that simple!

Contact DSC to learn more about our voice broadcasting services and phone systems.


---
University of Texas Medical Branch

"Community Blood Center/Community Tissue Services operates solely to fulfill the need for blood, allograft tissue and specialized laboratory services to patients. As a not-for-profit, 501c(3) organization, CBC/CTS delivers the confidence and tradition of 40 years of service to those hospitals it serves." - www.cbccts.org

The University of Texas Medical Branch uses voice message broadcasting services at the Database Systems Corp. call center to contact patients on a daily basis while performing multi-question surveys. This service is invoked if the patient does not call into DSC's automatic phone survey IVR on their own.
---
How To Use Our Computer Calling Service
Using our automated calling service is easy and secure. Once you've signed up for our service, here's all you need to do.
Create and save one or more list(s) of call recipients.
Record your phone message (either offline or using our 800 number).
Push "Start" broadcast button.
If there is an emergency and you need to get a message out quickly, you can even use our 800 number service to initiate a voice broadcasting alert.
Computer Generated Calling Systems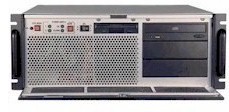 DSC offers both an affordable and expandable automatic calling systems. This solution includes a modern Windows PC with Dialogic computer telephony cards. When combined with our extensive IVR software, these phone systems can perform both inbound call distribution as well as outbound IVR call campaigns - concurrently.

The WIZARD Voice Broadcasting System is our entry level call center phone system that supports up to 48 analog phone lines. If your outbound calling center requires more lines, our PACER Voice Broadcast system can be used to deliver voice messages over hundreds of digital phone lines.
Automatic Calling Services
Besides offering an industry leading voice broadcasting phone system, DSC provides computer generated call services at our secure call center location. This service is ideal for sending community notifications, business announcements, or simple reminders. In most cases, your phone applications can be developed and running on the same day.

Our Voice Broadcasting Service can be managed directly using our secure website. Phone lists and voice recordings can be downloaded via the web to our call center and your phone campaign can be started online as well. For emergency voice broadcasting, we even provide an 800 number to call to initiate an emergency broadcast to your employees or community.
Online Automated Call Reports
An important feature included with our message broadcast systems and outsourcing services is our extensive voice broadcasting report system. These reports provide the administrator with a complete view of the performance of calling campaigns and include graphical presentation of data as well.

This online reporting and feedback system helps you observe and control the performance of these automatic phone calling programs.

Graphs and charts of operational statistics let you measure the effectiveness of each phone campaign as it is running.

The statistical information contained in each of these reports can be downloaded into a spreadsheet format for individually customized reporting.
Call Us Today
Contact DSC for a FREE analysis and quote and to learn more about our computer generated call products and services.