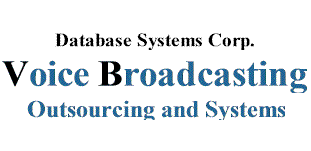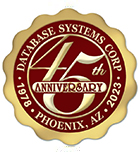 Voice Broadcasting Services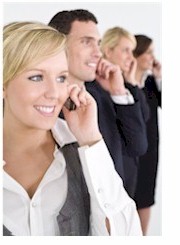 Database Systems Corp. (DSC) is a leading provider of call center phone systems and call center outsourcing including voice broadcasting service.

Our voice broadcast service can send phone messages and announcements to your clients and community. Phone messages can be computer generated from your systems or websites and delivered to your clients using our Voice XML Push technology.

Our voice broadcast system can send calls to one individual or to millions. A Pre-recorded message can be played to either an individual answering the phone or to an answering machine. Messages can be simply a warning to individuals informing them of emergency alerts, community events, upcoming appointments, or simply sales promotions.

A different message can be designated for an answering machine versus an individual. Simple to complex scripts can be developed for touchphone response. Calls can be directed to operators that are standing by or can be transferred to outside third parties.
Register Online For Voice Broadcasting Services
DSC now provides an online signup for both non-profit and business organizations wishing to use our voice broadcasting outsourcing services. Our competitive rates are affordable, even for the smallest calling campaign.

Start Calling In Just Minutes!. Using our new online signup lets you get started immediately with your calling campaign. Simply create an account and agree to our standard terms and conditions. Then download your list of phone numbers and record a message. We accept major credit cards and for as little as $25, you can begin calling. Its that simple!

Both emergency and non-emergency voice broadcasting services can be provided by DSC.

To register online, click on the the online registration image or button on the right.

Contact DSC to learn more about our voice broadcasting service and voice broadcast systems. To learn how to use our voice broadcasting services, click on the Voice Broadcast Quick Tour. (Popups must be enabled on your browser).


---
Customer Profile - U.S. Post Office

"The United States Postal Service® is an independent establishment of the Executive Branch of the United States Government. It operates in a businesslike way. Today, the Postal Service™ delivers hundreds of millions of messages each day to more than 141 million homes and businesses."

The U.S. Post Offices in Columbus Ohio utilizes our voice broadcasting services to contact postal employees in the event of an emergency. Emergency phone messages are sent to employees notifying them of a facility shutdown or other emergency situation. Messages also are sent informing employees to contact their emergency center 800 number for specific information and instructions.
---
Manage Voice Broadcasting Using Your Smartphone
DSC now lets you manage your voice broadcasting campaigns using your smartphone. The following easy to use functions are available to smartphone users.
Login to your account
Select a list of phone numbers to call
Select saved recordings to broadcast
Record messages by calling our service
Start and Stop a voice broadcast
Monitor the voice broadcast in progress
Your smartphone now lets you manage any number of voice broadcasts using simple phone commands.

Contact DSC to learn more about this simple way to control your voice broadcasting and to obtain a copy of this smartphone application.

Voice Broadcasting Service
Database Systems Corp. can provide your organization with a complete, turnkey voice broadcast system. If you need to get a project or campaign started immediately, we can provide your organization voice broadcast outsourcing at our multiple call center locations. These services are ideal for political calls and community or customer notifications. For an online tour of voice broadcasting service, visit our voice broadcasting demonstration page.

The following is a list of some of the features and options available with our voice broadcasting service. These features put us head and shoulders above the competition:
Broadcast different messages to individuals versus answering machines
Remote database access with XML pull
Automatic FTC Opt Out compliance
Call transfer to live agents with intelligent call routing
Remote call transfer through dial out
Timeout features and call control options
Do Not Call checks for bulk message blast campaigns
Voice blast messages to millions of households
Computer generated phone calls for alerts and reminders
Automatic event notifications such as system failures
Single message broadcast using XML push
Customized touchphone responses
Database access and update
Text-To-Speech data conversions
Email notification of call results or voicemail
Touchphone response control for both parties
Bulk message blast with low flat rates
Comprehensive online reporting and call management
Voice Over Talent for onhold messages
Call Us Today
Contact DSC for a FREE analysis and quote and to learn more about our voice broadcasting software services.