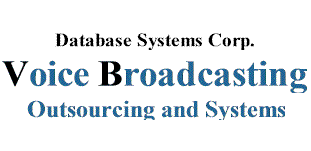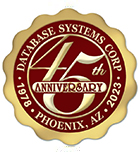 Voice And Text Messaging Services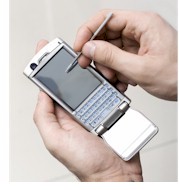 Voice and text message broadcasting is an efficient and cost effective way to keep in contact with customers, prospects, employees and community members. This mass communications technique lets you send important messages to large groups of individuals or communities.
Database Systems Corp. (DSC) provides call processing solutions to customers throughout the world and is one of the pioneers in the development of voice broadcasting. DSC has developed computer products for call centers and communications centers. These products include phone systems and application development software and tools.
Call processing services from DSC include automated IVR (Interactive Voice Response) phone answering services and message broadcast services.
Commercial and community voice broadcasting and text messaging (to a large group individuals with either landline phones or mobile devices) is a gaining popularity, particularly with targeted phone audiences such as employees or clients. Sending text and voice messages to members of a community during an emergency is one of many important applications for this technology.
What Is Voice / Text Messaging?
Voice / Text Messaging is the simultaneous transmission of voice and text messages to a group of call recipients. A single message can be transmitted in either voice format (call recipient or answer machine) or to a mobile device in a text format.

Text messaging, or texting is the common term for the sending of "short" (160 characters or fewer, including spaces, newer phones can hold up to 20 pages of 160 characters) text messages from mobile phones using the Short Message Service (SMS).

Voice broadcasting is a mass communication technique that sends a pre-recorded voice message to hundreds or even thousands of call recipients in a very short period of time.
Commercial text and/or voice messages can be sent to all of your clients or to a select group of vendors. Emergency voice and text messages can be delivered to community members in the event of a disaster that affects a large number of individuals.

Contact DSC to learn how to send voice and text messages to your customers and community members.
How To Use Our Text Messaging Services
Our online message delivery service is easy to use and it's secure. Once you've registered for our service, here are the simple steps required to send voice messages.
Create and upload one or more list(s) of call recipients.
Enter your text message.
Push "Start" message broadcast button.
For an online tour of our message broadcast service, visit our message broadcasting demonstration page.


---
Los Angeles Mission College

"Los Angeles Mission College serves the educational needs of our neighbors in the San Fernando Valley. Throughout our 30 year history, community support and involvement has been one of Mission College's most valued resources. We invite you to be part of Mission College! ." - www.lamission.edu

The LA Mission College uses our call center services to send automatic school calls to its students several times a year. These phone messages focus on the upcoming semester and remind students of the dates and times to complete their enrollment.
---
Register Online For Voice and Text Messaging Services

DSC now provides an online signup for non-profit and commercial organizations wishing to use our message broadcasting and text messaging service.


Call Us Today
Contact DSC to learn more about voice and text messaging using our call center services.