Progressive Dialer
Call Center Technology Systems
Progressive Phone Dialing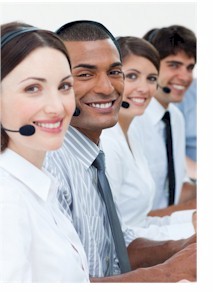 Database Systems Corp. (DSC) is a leading provider of automated call processing phone systems and services including automated calling solutions. DSC phone systems support several different dialer techniques including progressive dialing.
What Is Progressive Dialing?
Progressive dialing is an automated dialing technique that presents contact information to the call center agent prior to dialing the phone number. The agent is given a specific amount of time to perform this review prior to the dialer automatically placing the call.

Progressive dialing gives the agent time to review the contact information presented on the display device prior to the call being automatically launched by the dialer.
Progressive dialing is useful in call centers where the flow and pace of the outbound calls needs to be managed by the administrator of the center, not by the call center agent. The agent is given sufficient time to review information about the individual being called, but generally does not have control over the call itself.

This process is also referrred to as Forced Preview Dialing.

Contact DSC to learn more about our call center phone systems with progressive dialing features.
Multiple Dialing Techniques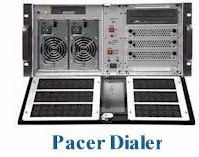 Besides progressive dialing, the DSC auto dialers can deliver messages to individuals or answering machines or can distribute the calls to live operators. There are several types of auto dialing techniques that are supported by our call center phone systems.


Voice Broadcasting System - Phone system delivers a pre-recorded message to live answers and answering machines. If another call status is detected (busy, etc.), our phone systems can reschedule the call for a later time. Simple messages can be delivered or the call recipient can be presented with an IVR script that accepts touch phone responses.
The remaining auto dialer techniques are used in conjunction with call center phone agents. These agents are either local to the contact center or can be working from home or in remote locations.
Preview Dialer - Phone agents view call information prior to the call being placed. The agent can decide not to initiate the call.


Progressive Dialing passes the call information to the agent at the same time the number is being dialed by the phone dialer. The agent usually has a few seconds to view the call information, but cannot stop the call process.


Predictive Dialing - This technique is more sophisticated because the phone dialer automatically calls several numbers and only passes a call to your agent when a person has been contacted. This eliminates busy signals, answering machines, etc.


Smart Predictive Dialers - Phone system places calls, plays recorded messages and prompts, and passes the calls to your agents only when the called individual requests a contact.
Progressive Dialer Phone Systems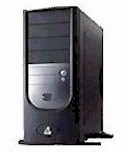 DSC offers both affordable and expandable auto dialing phone systems. These call center phone systems include a modern Windows PC with Dialogic computer telephony cards. When combined with our extensive IVR software, these phone systems can perform both inbound call answering functions as well as many different types of outbound calling campaigns.

The WIZARD phone system is our entry level call center phone system that supports up to 48 analog phone lines. If your contact center requires more lines, our PACER auto dialer can be used to deliver outbound phone calls over hundreds of digital phone lines.
Call Us Today
Contact DSC for a FREE analysis and quote and to learn more about our PACER and WIZARD auto dialers with progressive dialing capability.



Auto Dialers
Auto Dialer
Computer Phone
Phone Dialer
Auto Dialers
CTI IVR
DNIS Software
Predictive Dialer
Predictive Dialer System
Predictive Dialer Software

Voice Broadcasting
Message Broadcast
Phone Message
Automated Messaging
Computer Generated Calls
Message Dialer
Telephone Broadcast
Send Phone Messages
VoiceXML Broadcast
Mass Calling
Group Messaging
Robo Calls
Automatic Phone Alerts
Pay By Phone
Voice Broadcast
Voice Broadcast Simulation
Reminders
Mass Communications
Mass Broadcasting
Voice Broadcast Software
Voice Broadcasting Services
Telephone Messaging
Voice Message Broadcasting
Phone Blasting
Voice Blasting
Calling Tree