Third Party Verification
Sales Verification By Phone
Verify Phone Sales Using IVR Technology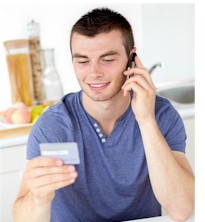 Database Systems Corp. (DSC) is a proven leader in providing call management solutions and technology. DSC specializes in the development of automated call answering systems and voice broadcasting solutions.

Our award winning IVR (Interactive voice response) software and phone systems have been providing our clients with state-of-the-art phone answering services. This technology has been used in many different types of applications.

Many of our clients have employed our IVR during the processing of phone sales. One of the features of our call processing systems and services is the ability to manage third party verification transactions.
What Is Third Party Verification?
"TPV (third party verification) is a process of having an independent third party confirm that a customer is actually ordering a new service or product or requesting a change. The TPV provider asks customers (1) to identify themselves, (2) to identify the order details, and finally (3) to confirm if they are authorized to place the orders.

Companies such as long distance providers and telemarketing organizations are required by law to use a third party verification service while selling products or services over the phone."
DSC provides a third party verification phone solution and system developed using its own IVR application software. DSC likewise provides TPV services hosted at its own call center.

TPV calls can be processed in multiple languages. During the course of a phone transaction, our IVR can be used to connect the buyer to a third party phone number. Once connected, the third party verifier can ask the appropriate questions of the caller (which is typically recorded by our phone system) and confirm the order details.

Contact DSC to learn more about our third party verification phone services and as well as our state-of-the-art phone systems. Visit our Phone Applications web page to view our other phone services.
How Does Our TPV Phone System Work?
There are several methods that can be employed when using our IVR for performing third party verification. The following are some of the features of this technique:

In the following scenario, our IVR performs the entire third party verification function.
IVR qualifies as third party verifier
IVR plays one or more voice prompts and accepts caller response
Phone system records voice confirmation from caller
IVR logs confirmation phone key responses
Voice and key responses are transfered back to sales organization
Our IVR can also function as a transfer agent between the caller and a third party organization.
IVR takes order information
At time of order confirmation, IVR transfers call to another third party
Phone system records the call between these two parties
IVR saves voice recordings and transfers these to sales organization
Call Us Today
Contact DSC to learn more about our third party verfication phone services and call center phone systems.



Testing and Interviewing
IVR Testing
IVR Surveys
Phone Interviews
Survey Generators
Clinical IVR Surveys
Phone Surveys
Phone Contests

Business Services
Bill Payment Services
Employee Management
Help Desk Solutions
Self Service IVR
Store LocatorService
HRD Phone Services
Employee Testing
Virtual Secretary
Virtual Help Desk

Professional Services
Medical Phone Services
Legal Phone Services
Financial Services
Real Estate Phone
Phone Coaching

Community Services
Transportation Phone
I'm Ok
Information Phone
Utility Phone Services
IVR Registration Services
Money Transfer IVR