Online IVR Reporting System
Sample IVR Reports
---
Daily Call Summary Report Information
This IVR report provides call information broken down by individual dates including the number of calls initiated during day. The following information is included in this report:
Date - Specific date that falls within date range of report.
Count - Total number of calls initiated within each date.
Minutes - Total time of all calls within each date.
Average - Average call length (minutes) for each call within each day.
Transfer - Total number of times a call was transferred for each day.
Average - Average number of times a call was transferred for each day.

For complete information about our IVR reporting system and IVR software solutions, please contact us. DSC can provide any additional custom reports that your organizations requires. DSC also provides a comprehensive set of IVR software library routines for the development of virtually any Interactive Voice Response application.


---
IVR Software Technology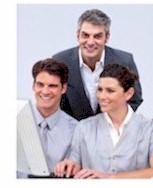 IVR Software from DSC includes development tools for creating Interactive Voice Response solutions quickly and efficiently. Our IVR WIZARD guides you through the definition and development of these applications and your phone answering campaigns can be operational in just minutes.

Applications such as IVR Surveys can now be created and maintained in a simple and visual manner.

Using our simple IVR application software, administrative staff can now maintain existing phone applications rather than expensive programming staff.

Software created for our IVR systems is portable and can be transferred to any other WIZARD or PACER phone system. Thus the investment in your phone application is not lost as your organization grows from a small analog IVR phone system to the larger digital PACER series. Flexibility and growth - keys to business success.
Call Us Today
Contact DSC for a FREE analysis and quote and to learn more about our IVR and voice broadcasting products and services.


---

IVR Reports
Call Summary
Calls By Location
Calls By Time Of Day
Detail Call Report
Calls By Area Code
Call Duration Report
Call By Month Report
Daily Call Summary
Day Of The Week Report
Download Data Report

IVR Information
IVR Services
IVR Applications
IVR Solutions
Custom IVR Programming
IVR System
IVR Call Center
IVR Phone
Voice Portal
Outbound IVR
IVR Management
IVR Platforms
IVR Outsourcing
Hosted IVR