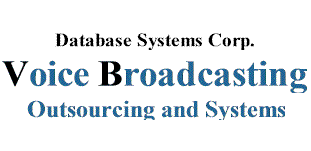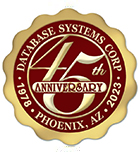 Group Message Broadcasting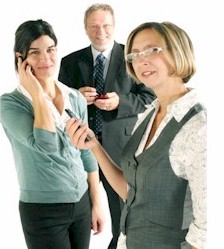 Database Systems Corp. (DSC) develops and markets call center technology including group message broadcasting systems and group calling outsourcing services.
What Is Group Calling?
"Group Calling is a mass broadcasting technique that blasts phone messages to thousands of call recipients at once.

Emergency phone alerts can be delivered to groups such as members of a community quickly and efficiently. When used as a direct marketing technique, group message calls can be delivered to prospective clients in bulk."
DSC offers an efficient and cost effective method of contacting thousands of households using group message broadcasting. Group calling involves automatically dialing hundreds to thousands of numbers at once using computer managed lists, playing a pre-recorded message to both individuals and answering machines.

Organizations looking to get a message out to a large number of people in a short amount of time can benefit significantly from this service. And group message calling is far more cost effective than using traditional mailers - just pennies a call for large volumes. This communication technique is very effective for political campaigns and charitable organizations.

Call blasting is very effective for political campaigns, group marketing programs, and community service organizations.
Register Online and Save!
If you wish to use our voice broadcasting phone services, DSC is pleased to offer significant discounts when you use our Online Registration Form.




Start Calling In Just Minutes!. Using our new online signup lets you get started immediately with your calling campaign. Simply create an account and agree to our standard terms and conditions. Then download your list of phone numbers and record a message. We accept major credit cards and for as little as $25, you can begin calling. Its that simple!

Contact DSC to learn more about our group message dialing services. To learn how to use our voice broadcasting services, click on the Voice Broadcast Quick Tour. (Popups must be enabled on your browser).


---
Los Angeles Mission College

"Los Angeles Mission College serves the educational needs of our neighbors in the San Fernando Valley. Throughout our history, community support and involvement has been one of Mission College's most valued resources. We invite you to be part of Mission College! ." - www.lamission.edu

The LA Mission College uses our call center services to send automatic school calls to its students several times a year. These phone messages focus on the upcoming semester and remind students of the dates and times to complete their enrollment.
---
How To Use Group Calling Services
Our online group calling service is easy to use and secure. Once you've registered for our service, here are the simple steps required to initiate a group phone calling campaign.
Create and save one or more list(s) of call recipients.
Record your phone message (either offline or using our 800 number).
Push "Start" broadcast button.
Group Phone Call Applications
Group message calling is becoming a widespread communications technique that delivers important public service announcements and targeted commercial message quickly and efficiently. This technique is far more cost effective than traditional direct marketing programs.


Political Campaigns
Emergency Alerts
Community Service
Marketing Campaigns
Customer Survey Programs
Market Research
Surveys and Polling Campaigns
Answering Machine Messaging
Emergency Notification
Credit Collections
Mortgage Marketing
Charitable Contributions

Message and Recording Service
Sweepstakes and Contests
Insurance Marketing
Event Reminders
Lead Generation
Fund Raising Projects
Political Advertising
Appointment Reminders
Severe Weather Warnings
Call Us Today
Contact DSC to learn more about our group calling phone services.