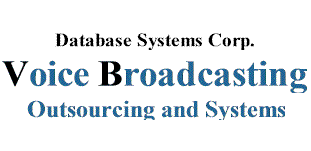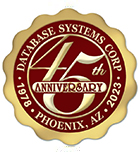 Broadcast Message Solutions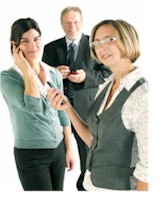 Database Systems Corp. (DSC) is a leading supplier of computer telephony integration (CTI) including calling solutions that broadcast messages to individuals and to answer machines.

Since 1978, DSC has provided its clients with the latest technology in database and computer software solutions. These products include call center software with interactive voice response (IVR) and voice message broadcast capability.
What Is Broadcast Messaging?
"Broadcast messaging (or voice message broadcasting) is a mass calling technology that involves sending phone messages to hundreds or thousands of call recipients at once.

Broadcast messaging technology has both public service and commercial applications. Companies can send calls to clients or alert messages can be delivered to community members in the event of an emergency."
Using voice message broadcasting, pre-recorded phone messages can be sent to either individuals or played on answer machines. If our message broadcas dialer detects a no answer condition or busy signal, the message can be scheduled for delivery at a later time. Complete online reports are available to view the effective delivery of phone messages using this technology.

Contact DSC to learn more about our how to broadcast phone messages to your clients and community members.
Register Online For Message Broadcast Services
DSC now provides an online signup for both non-profit and business organizations wishing to use our voice broadcasting outsourcing services. Our competitive rates are affordable, even for the smallest calling campaign.

Start Calling In Just Minutes!. Using our new online signup lets you get started immediately with your calling campaign. Simply create an account and agree to our standard terms and conditions. Then download your list of phone numbers and record a message. We accept major credit cards and for as little as $25, you can begin calling. Its that simple!

Both emergency and non-emergency voice broadcasting services can be provided by DSC.

To register online, click on the the online registration image or button on the right.


---
City of Brentwood Police Department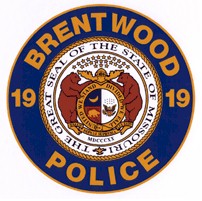 "The "Are You O.K.?" program is designed to check on the welfare of the Brentwood senior citizens and persons with disabilities. The program is designed for those citizens who might face medical emergencies in their homes and do not have friends or relatives to check on them each day. "Are You O.K.?" utilizes computer technology to contact these citizens daily by telephone. This is performed as a public service by the Brentwood Police and Fire Departments. The service is free of charge." - www.brentwoodmo.org

Our CARE phone system, using our voice broadcasting technology, was provided to the City of Brentwood Police Department to check on the well-being of disabled persons, older adults, and individuals who live alone within the city limits.
---
How To Use Our Broadcast Messaging Services
Our online phone message delivery service is easy to use and it's secure. Once you've registered for our service, here are the simple steps required to send phone messages.
Create and upload one or more list(s) of call recipients.
Record your phone message (either offline or using our 800 number).
Push "Start" broadcast button.
For an online tour of our phone service, visit our voice broadcasting demonstration page. If you are unable to use our online voice broadcast website, you can call our 800 number, record your message, select a saved list of call recipients, and initiate the broadcast.
Broadcast Message Software
Message broadcasting software from DSC allows developers to create custom applications affiliated with a calling campaign. When the call is delivered to an individual, an IVR software script can be invoked that leads the caller through menu options. These options include transfering the call to an operator or outside phone extension.

The following are just a few of the features of our message broadcast and IVR software.
Linux, Unix, and Windows API libraries
DNIS Controlled
Client/Server Architecture
Digital T1 800 Number Support
Analog Phone Line Support
Hearing Impaired TDD / TTY Phone Support
Sample VB Reports
Multiple Concurrent Programs
Play Message and Prompt
IVR Phone Key Input
Play Music On Hold
Call Outside Line and Transfer Call
Call Outside Line and Prompt for Input
Connect Caller to Outside party
Record Messages and Store
User Navigation and Selection
Voice Mail
Route Caller to Selected Agent Groups
C or C++ Visual Basic library
Database Access and Update
Text To Speech Software (TTS)
Mix Messages and Text
Response Logging and Reports
Call Us Today
Contact DSC to learn more about our message broadcasting technology.



Voice Broadcasting
Phone Message
Automated Messaging
Call Messaging
Message Dialer
Phone Broadcast
Voice Messaging
VoiceXML Broadcast
Mass Calling
Robo Call
Computer Generated Alerts
Voice Broadcast
Voice Broadcast Software
Telephone Messaging
Voice Message Broadcasting
Phone Blast
Voice Mail Broadcasting
Voice Blast
Calling Tree
Send Text Messages
Send SMS Messages
Voice Text Messaging
Text Message Services
Automatic Text Messaging

Auto Dialers
Auto Dialer
Computer Phone
Phone Dialer
Autodialers
Predictive Dialer
Preview Dialer
Progressive Dialer