Virtual Receptionist
Automatically Answers and Routes Phone Calls
Virtual Receptionist Answers Your Business Calls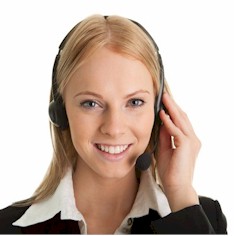 Database Systems Corp. (DSC) is a leading provider of call center technology including ACD (automated call distribution) systems and computer telephony software.

DSC provides products that automatically answer calls and distributes them according to your business rules. Using our award winning IVR technology, this call routing strategy can act as a front end to your business, greeting new prospects and existing clients, and responding to their informational requests just as a receptionist might do in your business.

However, an automated virtual receptionist provides the same professional greeting 24 hours a day and can be programmed to provide any information your callers require.
What Is A Virtual Receptionist?
A Virtual receptionist answers phone calls for businesses and organizations and is often an automated system. This virtual phone answering system can be remotely hosted at a different site or by an outside service organization.

Virtual receptionists can be either "live" individuals performing this task or automated ACD systems with supporting IVR technology.
DSC provides phone systems that can automatically answer incoming phone calls and route them to the appropriate individual or department within your organizations. These calls can also be distributed to remote agents and work from home employees. Your call center agents and phone workforce no longer need to work from one central location. With today's modern workforce using mobile telecommunications and technology, your call agents can work from anywhere.

A virtual receptionist generally answers incoming phone calls on a first come / first serve basis. However, intelligent call routing systems such as those provided by DSC can route calls based upon caller identification, dialed number, time of day, and custom defined parameters established in an IVR (Interactive Voice Response) program script.

Contact DSC to learn more about our automated virtual receptionist software and phone systems.
Virtual Receptionist Phone System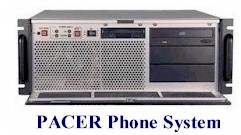 A basic phone answering system processes incoming telephone calls on a first come first serve basis. The system typically answers each call immediately and, if necessary, holds it in a queue until it can be directed to the next available ACD call center agent.

Our WIZARD and PACER Virtual Phone Systems with our phone answering software do far more than simply process calls in sequence.

The PACER (digital) and WIZARD (analog) systems manage multiple call queues, keep a log of call group activity, and monitor call activity such as call queues, agents, and on hold times. Depending upon user defined business rules, our automatic call distribution systems create different processing paths for different callers.

However a call centeršs business rules may be configured, the ultimate goal should be to serve every caller quickly and efficiently to meet customer service expectations.
Virtual Receptionist Features
24 hour a day operation
Same greeting to all callers
Route calls to remote offices
Distribute calls to work at home employees
Intelligent skill based call routing
Prioritized call routing
DNIS assignment of agent groups
GUI interface
Unlimited number of agent groups
Custom messages for each DNIS
Web call backs
Multimedia support (email, chat, inbound, outbound calls)
Alarms for callers in queue
Call-back message support
Customizable agent screens
Virtual Receptionist Information
Contact DSC to learn more about our virtual receptionist phone systems and services.



ACD Information
ACD Software
ACD System
Auto Attendant
Virtual ACD
Call Distribution