Direct Marketing Outsourcing
Generate Sales Using Voice Broadcasting
Direct Marketing Phone Services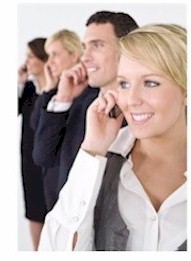 Database Systems Corp. (DSC) is a proven leader in the call center industry providing technology products and outsourcing services since 1978.

DSC supplies call center phone systems and software that automatically call households and businesses delivering marketing and sales information. DSC also offers direct marketing programs and outsourcing services.

Using our multiple location call centers, DSC offers both inbound and outbound direct marketing outsourcing services. These services automatically answer phone calls or broadcast voice messages. Our phone systems and call centers process phone calls using our award winning interactive voice response (IVR) system that processes incoming calls without an operator.

Our outbound phone services include voice message broadcasting that automatically transmits voice messages to customers, employees or the general community.

Using these advanced direct marketing solutions, your sales representatives can work from a central location or can work at home.

Contact DSC to learn more about our direct marketing products and services.


---
Direct Marketing Client - Subaru

"Subaru of America, Inc., (SOA), is the exclusive United States marketer of Subaru products manufactured by Fuji Heavy Industries Ltd. of Japan. Headquartered in Cherry Hill, N.J., SOA serves nearly 600 dealers nationwide." - www.subaru.com

Subaru of America, Inc. is a wholly owned subsidiary of Fuji Heavy Industries Ltd. of Japan. Subaru utilizes direct marketing services at Database Systems Corp. to update both field sales force personnel and automobile dealerships regarding product and promotional information.
---
Direct Marketing Software
DSC offers a variety of direct marketing software applications and development tools.

TELEMATION is our award winning Customer Relationship Management (CRM) application employed in a wide variety of organizations including contact centers, help desks, customer service centers, service bureaus, reservation centers and corporate call centers.

DSC computer telephony integration software enables you to increase employee productivity, enhance customer service and reduce costs by combining the capabilities of our PACER direct marketing equipment (or your existing call center phone system) with the custom functionality of Windows, Unix or Web applications.
Call Us Today
Contact DSC for a FREE analysis and quote and to learn more about our direct marketing outsourcing services.