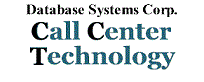 Voice Broadcast And IVR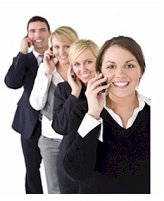 Database Systems Corp. (DSC) has been in business since 1978 and is a leading technology provider for call centers including automated phone systems as well as hosted phone services.
Our phone systems contain state-of-the-art technology that supports voice broadcasting and IVR (interactive voice response) applications.
History Of Success
DSC has been providing its customers with computer technology software and systems since its inception. DSC clients include international corporations, governments, educational institutions, local communities, and small businesses alike. From database design to complete computer system and phone system integration, our products have met or exceeded the expectations of our clients.

Contact DSC to learn more about our call center products and services.


---
Database Systems Corp. Technology
Database Systems Corp. is unique in that we provide call center phone systems and outsourcing services. Combine this with our experienced application development team, we can deliver both off the shelf solutions and customized turnkey applications.
Phone Systems

To deliver phone applications and services, DSC has developed two series of phone systems. These systems are used exclusively at our own call centers and are provided directly to our clients. Our computer telephony software and systems support as few as four analog phone lines to hundreds of digital lines.
Call Center Outsourcing Services

DSC provides phone services including IVR outsourcing and voice broadcasting service at our own managed call centers.
These centers provide secure and redundant environments for the maximum protection of our outsourcing clients. From small calling campaigns to projects that require broadcasting millions of calls, our call outsourcing center can do the job!
Application Development Services

DSC has a proven record of delivering successful phone applications in a wide variety of industries.

This success can only be achieved through the dedication and skill of our application development team.

Our professionals are experienced in the development of virtually any type of inbound and outbound call application.
Interactive Voice Response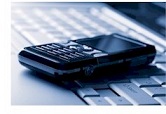 Interactive Voice Response (IVR) automates the personal interaction of telephone callers with the computerized phone system. Automated phone systems have used voice recorded prompts and menus to present information to callers. Touch-tone telephone keypad entries are gathered from the caller to collect information and navigational data.

Database Systems Corp. has developed an award winning IVR phone system that includes our extensive IVR software development library. Using this technology, our experienced staff can develop IVR applications quickly for both turnkey IVR systems or when using our IVR outsourcing services.
Voice Broadcasting
Voice broadcasting is a mass communications technique that can send phone messages by computer to hundreds or thousands of call recipients at once. This technology has both commercial and community applications such as notification and call reminders.

DSC is a pioneer in the development of voice broadcasting systems and in providing voice message broadcasting services. To take an online tour, visit the voice broadcasting demonstration webpage.
Manage Calls Using Your Smartphone
DSC now lets you manage your voice broadcasting campaigns using your smartphone. The following easy to use functions are available to smartphone users.
Login to your account
Select a list of phone numbers
Select saved recordings
Record messages
Start and Stop broadcast
Monitor the voice broadcast
The DSC smartphone application now lets you manage any number of voice broadcasts using simple phone commands. Contact DSC to learn more about this simple way to control your voice broadcasting and to obtain a copy of this smartphone application.
Contact Us Today
Contact DSC for a FREE analysis and quote and to learn more about our call center services and phone systems.